"All restaurants, coffee shops and other places food is offered shall be limited to take out; All bars, gyms, parks, private social clubs are closed."
EXECUTIVE ORDER FROM MAYOR GIL MCDOUGAL
Monday, March 23, 2020
This morning I signed a Declaration of Emergency for the City of Villa Rica and issued an Executive Order to protect citizens in this current health crisis.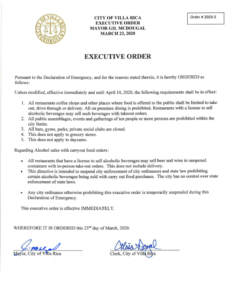 This is not a decision taken lightly. The environment we live in is changing hourly and the City of Villa Rica will continue to make timely decisions to protect our citizens and staff.
Please be vigilant and limit your interactions with others as much as possible. Villa Rica is a strong community and we will all get through this together. May you and your families stay safe.
Gil McDougal
Mayor