An entirely new, comprehensive concept in senior living is coming to west Georgia as Tanner Health System's The Birches at Villa Rica takes shape.
The project is a unique venture for a health system, expanding seamless health and wellness services to people looking to live longer, more active lives.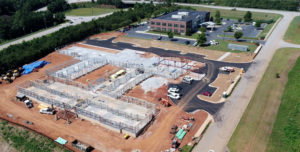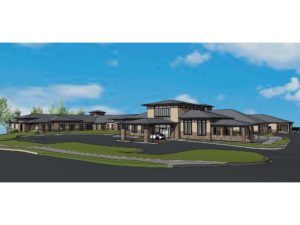 Built on an almost six-acre site along Permian Way in Villa Rica — next to the Tanner at Mirror Lake medical office building — the single-level development will feature 61 total apartments, including 36 assisted-living apartments and 25 memory care apartments.
"Within the decade, the number of Americans age 65 and older — more than 36 million people — will represent almost a quarter of the nation's population," said Loy Howard, president and CEO of Tanner. "We're committed to providing the services that our community needs, and this project expands on that commitment."
Construction should be finished by Summer 2021. Leasing of the units will begin in late Fall 2020.
The location makes The Birches at Villa Rica convenient to people throughout the metro area, just off Interstate 20 and Highway 78.
The project is unique in the senior living market. Most senior living communities are stand-alone developments, but The Birches will be fully incorporated into a full-service regional health system, overcoming one of the greatest challenges for senior living residents: access to medical care.
"The Birches is part of our system," said Howard. "Everything our residents need: primary care, heart care, cancer care, wellness and access to our full breadth of services — will be available to them. This distinguishes The Birches from other senior living options — we can seamlessly connect our residents with whatever medical services they need."
The Birches is a very different project for a regional health system, according to Wayne Senfeld, Ed.S, LPC, senior vice president of behavioral health at Tanner.
"The Birches incorporates senior living into our existing continuum of care," Senfeld said. "Residents will have around-the-clock access to primary care, behavioral health, specialty services and other avenues of care, helping them live longer, healthier, more active lives."
At The Birches, assisted living residents can choose from single-bedroom or studio apartments. They'll have access to an on-site movie theater, salon, restaurant-style dining, fitness and activity rooms, concierge services and more.
Memory care patients will have private and semi-private apartments, a private enclosed courtyard, restaurant-style dining and access to holistic, specialized services to treat cognitive impairments.
All residents will enjoy chef-prepared meals each day, enriching activities, outings to local shopping centers and social events, and around-the-clock access to nursing and other healthcare professionals. Residents will also benefit from Tanner's extensive wellness services through Get Healthy, Live Well — including chronic disease management and prevention, nutrition education, exercise instruction and more — to lead longer, healthier lives.
The community will also leverage the health system's integrated care offerings and leading-edge infection-prevention expertise — which has become even more vital in the age of COVID-19.
"The coronavirus is going to be with us for a while," said Senfeld. "We'll bring the same expertise in infection prevention we've applied to our hospitals and clinics to The Birches. Our residents will be assured that every precaution is being taken for their safety."
The Birches will also provide an economic boost for the region, creating jobs for people at all skill levels.
"We're going to need clinical staff, environmental services professionals, culinary staff and others," said Howard. "The Birches at Villa Rica will create opportunities for people at all skill levels — stable, dependable careers with competitive benefits. Just the type of careers our region needs."
The Villa Rica project is the first of several anticipated senior living developments Tanner plans to build, with future communities planned throughout the west Georgia region.
More information on Tanner's line of services can be found at tanner.org.