(Carroll County, GA) Chuck Barnwell began his career with Carroll County Fire Rescue in 1989 as a Junior Volunteer Fireman before becoming a full-time Firefighter in 1992. Barnwell served Carroll County Fire Rescue for a total of 11 years working his way up through the ranks from Lieutenant to Station Chief before joining the Gwinnett County Fire and Emergency Services in 1999. Barnwell has most recently served as a Battalion Chief, supervising, and providing leadership for all staff and numerous students at the Gwinnett County Fire and Emergency Services Training Academy.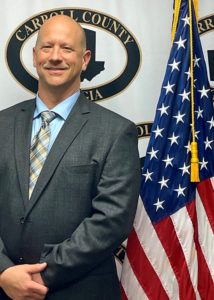 Barnwell received his associates degree of Fire Science from West Georgia Technical College and went on to graduate with a bachelor's degree in Fire Administration from Bowling Green State University. Barnwell currently holds certifications as an ADJUNCT Instructor, EMT-I, NPQ Instructor II, HazMat Technician, and Swift Water Operations.
Chairman Michelle Morgan stated, "Chief Barnwell comes to us with 29 years of fire service experience and has served at all levels of the fire service from Firefighter to Battalion Chief. I feel his experience, quality and quantity of training, and his ability to relate well to all levels of the fire service will not only make him an asset to the citizens of Carroll County, but also an effective leader and mentor to the men and women of Carroll County Fire Rescue. Chief Barnwell is a Carroll County native, and currently resides in Villa Rica along with his wife and together they have three children. I am excited to bring Chief Barnwell home to his family and back to his Carroll County Fire Rescue roots and fully expect him to hit the ground running."
"I want to express my appreciation to Chief Tim Padgett for his willingness to remain in the role of Fire Chief while also serving as the Emergency Management Director during a time where the Board of Commissioners worked together to fully fund the Fire Chief position and to those who patiently waited as I constructed an interview and panel process to which a new Chief would be named", Chairman Morgan continued.
Barnwell, advised of his recent appointment stated, "I am honored for the opportunity to join the men and women of Carroll County Fire Rescue and I look forward to meeting with them to gather thoughts and ideas as we will work as a team to provide the best service to the citizens of Carroll County."
"I plan to utilize my leadership and management skills to invest in the men and women that faithfully serve Carroll County Fire Rescue. I will be present and instill positive change within the department and develop innovative ways to incorporate relevant training and management skills within the staff to stabilize and elevate the culture and perception of Carroll County Fire Rescue", Barnwell stated.
Barnwell will step into his role as Fire Chief November 1, 2021.