Walkers, joggers and bikers on Carrollton's Green Belt, whether they are new to the path or have been on it for years, may have noticed the dozens of brightly painted stones hiding along their journey.  The founder of Carrollton Rocks, Kitty Holdbrooks, started this project 4 years ago in an attempt to get children outside and exercising by hiding art along the Green Belt and at other public areas in Carrollton.
"When we first started it, it didn't really take off very well. We were getting ready to throw our hands up and say no one is going to do this but then it just took off," said Holdbrook
The Carrollton Rocks movement is based around a Facebook group that has nearly 3000 members. It allows members to share pictures of rocks that they have painted or found around town.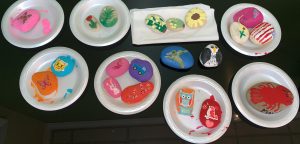 "They are not just hiding along the Green Belt. They hide them at the fast food restaurants outside. My mom has snuck a few into Publix and hid them on the shelves," said Holdbrook. "They can be anywhere."
Holdbrook said that anyone is encouraged to participate but if you do take a Carrollton Rocks stone, you are encouraged to replace it with one that you paint yourself.