written by: Carroll Electric Membership Cooperative Communications Assistant, Brittany Shadix
Carrollton, GA— Carroll Electric Membership Cooperative has restored power to all but just a handful of its Members affected by storms that pushed across the service area Saturday evening. Efforts continue Sunday morning to restore electric service to those remaining.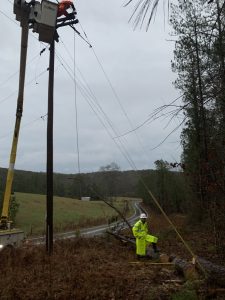 All hands were on–deck for Carroll EMC since Friday, Jan. 10,with 133 employees and contractors on call. The co-op activated Level Two of its Emergency Response Plan early Saturday evening after damaging winds and torrential rain caused more than 8,000 power outages. Contracted crews from Lee Electric and fellow co-ops Snapping Shoals, Diverse Power and Coweta-Fayette EMC arrived at Carroll EMC late Saturday night and early Sunday morning to assist with restoration.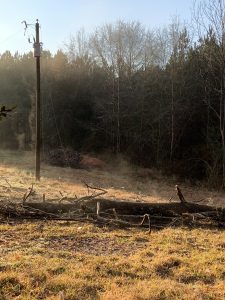 "We were well prepared to begin restoration efforts after the weather subdued," said Jerome Johnston, Chief Operations Officer for Carroll EMC. "Most all of our line crews and contractors were dispatched into the field by early evening Saturday."
Few areas remain without electricity as small sections prove tedious and widespread. Carroll EMC personnel will continue restoration efforts until all power is returned to its service area.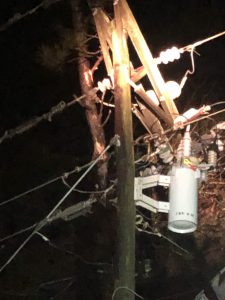 "We appreciate the patience and cooperation of our Members and community partners," said Tim Martin, CEO of Carroll EMC. "We realize that being without power is inconvenient and we appreciate the supportive messages and calls as our employees continuously work."