A long time Carroll County resident and the state's first black public library director is to posthumously receive the lifetime achievement award from the Georgia Public Library Service next month.
An announcement posted to the GPLS website states: "Georgia Public Library Service is pleased to award this year's lifetime achievement award posthumously to LeRoy Childs, the first black public library director in Georgia. Throughout his career, Childs was active in the formation of state and national library policy."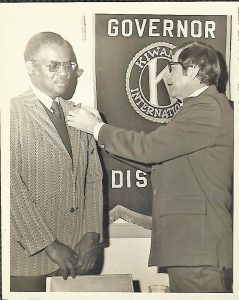 LeRoy Childs, Georgia's first black library directory, receiving an award.
"This award is a testament to the selfless blood, sweat, tears, racial barriers, tenacity, and determination to honor a higher good that my grandfather did for the library system as a whole, but more specifically his community in times where many of the people he reached could not visit the library and take advantage of the many benefits that it afforded others," said Kirsten Childs.
He was director of the West Georgia Regional Library System from 1976-1986, having begun his career there in 1951 as the bookmobile librarian before becoming a branch manager from 1951-1967, assistant director from 1967-1974, and deputy director from 1974-1976. Childs served as treasurer of the Georgia Library Association before becoming the first black president elect in 1986. He also served as chairperson of the Georgia Council of Public Libraries. He was appointed by Gov. Joe Harris to serve on the Georgia committee for the White House Conference of Libraries.
Childs served tirelessly to improve the reach and capacity of libraries by helping to shape policy. His life was rich with acts of service.
"Mr. Childs' contribution to public libraries and to young library directors cannot be underestimated," said Steve Schaefer, retired director of Uncle Remus Regional Library and 2015 Georgia Public Library Awards winner as Librarian of the Year. "He was a true leader among his fellow directors."
The achievements of LeRoy Childs will be honored at a ceremony at the Georgia Capitol on Feb. 13 at 12:30 p.m.
(The information in this story was obtained via the Georgia Public Library Service website at https://georgialibraries.org/georgia-public-library-awards-honor-states-first-black-public-library-director-the-okefenokee-regional-library-system-and-more/ )