CARROLLTON, GA – A teacher who followed a passion to help others and literally mentors hundreds of students every single day has been named the 2020-2021 Carrollton City Schools Teacher of the Year.
Carrollton High School Band Director Chris Carr received the top honor and was recognized along with three others – Natalie Wiggins, Tiffany Pullen, and Regina Hytower, Teachers of the Year at Carrollton Elementary, Carrollton Upper Elementary and Carrollton Junior High, respectively.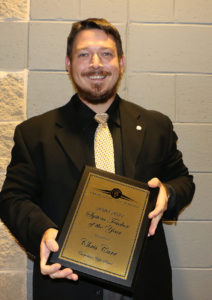 CHS Band Director Chris Carr was named the 2020-2021 Carrollton City Schools Teacher of the Year following a district process that selected one teacher for the honor from four school-level TOTY award recipients. The other teachers under consideration were Natalie Wiggins, CES; Tiffany Pullen, CUES, and Regina Hytower, CJHS.
The announcement was made at the Nov. 10 Carrollton Board of Education monthly meeting, held in the Mabry Center for the Arts. Carr said he was "shocked" to be awarded the title.
"Every day that I've been here in Carrollton, God has proven to me that I made the right decision," said Carr, who was named band director in 2014. "There were many, many signs then, and every day there are more and more. My wife and I are definitely Trojans and are very honored to serve our community, our students and to work amongst great leaders. Thank you so much for this honor."
In August, Carrollton City schools announced school-level representatives to serve during the 2020-2021 school year. From that pool of candidates, a district team reviewed applications and evaluated the teachers in their classrooms to determine a system representative. In preparation for the district competition, the TOTYs were asked to write essays outlining their passion for teaching. Below are highlights from each one:
CHRIS CARR  Carrollton City Schools Teacher of the Year
I became a teacher because I have a passion for learning and helping others. When reflecting on why I became an educator, I think of many mentors throughout my life who embody the teacher I wish to be, and I try my best to be that teacher for my students.
I believe that my greatest contribution to education has yet to come, but one contribution that I am very proud of is surrounding myself with other master teachers.  We have a very talented, dedicated, and compassionate team of band directors who strive to do right by kids daily and I am honored to be a part of it! We have the unique privilege to influence our students through pep-rallies and parades as young preschoolers, begin teaching them directly in the fourth grade, mentor them through band until they graduate and if they choose a different path we can continue to motivate and inspire them through performances at athletic and community events! I am excited for our team to continue pushing one another professionally as we pour into our students while supporting the vision and mission of our school district and build upon the tradition of excellence established before us.
NATALIE WIGGINS
Carrollton Elementary School
Growing up as a military child, I was used to constant change having to move every two-to-three years. I was always having to adjust to new places and new people. In fact, one of my "interesting facts" I always share with my new students and families at the beginning of the year is that I attended 10 different schools K-12th.
The one thing that remained constant, though, was that I always felt comfortable and felt like I belonged at school. School was my constant in a childhood of change. It was a sanctuary where I got to make friends, play on sports teams, and take advantage of so many opportunities to learn from many amazing educators. From New York, to Alaska, to Key West, Fla., my moving around as a military brat enabled me to make lifelong friends at so many different schools, but what I remember most about my school years were my amazing teachers. Teachers who went out of their way to form relationships with me that impact me to this very day. I think back to my experiences like that and it inspires me to come to work every day hoping to be that same positive influence, to be the difference in my students' lives.
TIFFANY PULLEN
Carrollton Upper Elementary School
I didn't grow up dreaming of becoming a teacher. After graduating from the University of West Georgia with a business management degree, I chose a career with a public safety agency where I served as their database administrator.  Over time, my position evolved and included training employees. This new role helped me see that I had a knack for teaching and a passion to see others succeed.  At the time, I didn't feel as though I was making a worthwhile impact, so I made the decision to become a teacher, thinking "how hard can it be?" Little did I know that I had entered the toughest, most thankless job that would end up bringing me more joy and fulfillment that I could have ever imagined.
While I had several remarkable moments and experiences in my previous career where I felt I made a difference, nothing comes close to the feeling of knowing you helped a student.  Seeing a kid's eyes light up in response to understanding drives my excitement for teaching each day.  But more important, knowing that I have the opportunity to impact beyond the classroom seals my decision to push forward in this noble profession. Over the years, there have been countless moments where the impact I have had on a student has been obvious.  I will forever appreciate these instances, but I have learned that the influence of a great teacher extends beyond a moment in time.
REGINA HYTOWER
Carrollton Junior High School
The moment I stepped into the classroom I knew it was what I wanted to do for the rest of my life. Before that, I didn't want to be a classroom teacher. After I received my undergraduate degree in Public Relations, I applied to several different jobs but was turned down for all of them. My mother suggested I apply for a teaching position. Reluctantly, I did, expecting to be turned down again. To my surprise, I was told by my first principal there was something about me and he would allow me to teach as long as I went back to school to become certified. I stepped into the classroom with students, and I knew it was my calling. I felt at home.
My greatest accomplishment in education has been allowing my students to teach me what it means to love unconditionally, serve passionately, and have fun relentlessly. They taught me not to take everything so seriously. Once I realized that they are the most effective professional development course I could ever take, I noticed a big difference in the atmosphere and achievement in the classroom. In my early years, I focused more on "getting it done" instead of the young minds in the room. I had to realize that I had the power to impact them in a positive life-changing way. Over the last few years, my priority has been to work on my relationships. I make time to get to know my kids, have fun with them, and my class has become more student-centered.
The most recent accomplishment I have made was receiving the highest award given by the U.S. Government to kindergarten through 12th-grade teachers of mathematics and science, including computer science. In August, I was one of two state finalists from Georgia presented with the Presidential Award for Excellence in Mathematics and Science Teaching. Being chosen by a panel of distinguished mathematicians, scientists, and educators at the state and national levels and being recognized by the nation was such a humbling achievement.