Bremen City Schools is excited to announce that Atlanta Gas Light has generously donated $10,000 toward Blue Devil Family Park, which includes the building of a new baseball field for Bremen High School. In addition to a baseball field, a multi-purpose field has been designed and built. The funds donated by Atlanta Gas Light will go toward the continued construction of the park.
Bremen Board of Education Chairman, Vann Pelt, noted, "On behalf of our students, staff, and parents of Bremen City Schools, we were happy to assist and partner with Atlanta Gas Light during the recent outage in our area. The donation will go toward good use and will greatly assist us in continuing to provide exceptional facilities and services for our deserving students."
Atlanta Gas Light experienced an outage on its system Feb. 13, affecting natural gas service to approximately 3,500 customers in Bremen and Buchanan communities. Bremen high school served as the incident command center.
"Atlanta Gas Light appreciates the support from the Bremen community during the February natural gas service outage," said Bryan Batson, president of Atlanta Gas Light. "We are committed to the communities where we live and serve. This is an opportunity to show gratitude to the Bremen Board of Education for allowing our company to use the high school as an incident command center for the teams involved in the service restoration effort."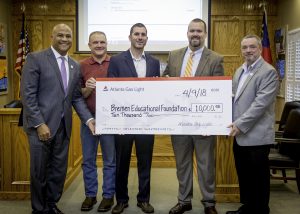 A check presentation occurred at the April 9, 2018, meeting of the Bremen Board of Education (picture included). Wendell Dallas, vice president of Operations for Atlanta Gas Light, made the official presentation. Joining Mr. Dallas, from Atlanta Gas Light, was Phil Buchanan (Director of Regional Operations at the Carrollton Service Center), and Bryan Parks (Field Specialist at the Carrollton Service Center). Dr. Tim Huff, Principal of Bremen High School, and Coach Chris Brown, Bremen High School Head Baseball Coach, received the check on behalf of Bremen High School and Bremen City Schools.