(Carrollton, Ga. – September 18, 2019) Carroll County School System is pleased to announce the graduation rates recently released by the Georgia Department of Education are higher than last year! The district graduation rate for the 2018-2019 school year is the highest in the history of Carroll County School System. All five high schools achieved a rate of 90% or higher for the second consecutive year, and the district rate is 93.3%.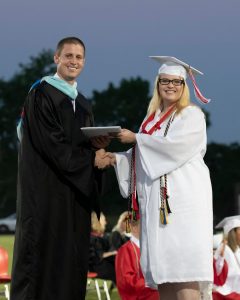 Each school rate is as follows:
Bowdon High 92.86%
Central High 90.24%
Mount Zion High 98.17%
Temple High 91.56%
Villa Rica High 94.91%
These rates exceed the state of Georgia graduation rate of 82% and are among the highest rates in the west Georgia area. Carroll County School System currently ranks 8th for multi-high school districts in the state and 2nd behind Forsyth County for districts with 5 or more high schools.
Bart Cater, Chairman of the Carroll County Board of Education stated, "The continued increase in our graduation rates is testament to the dedication our team of educators has to developing globally competitive college and career ready graduates. We congratulate our students, teachers, and administrators for their hard work and commitment to being premier."
Mount Zion High School has maintained a graduation rate of 90% or higher for five consecutive years and earned the highest rate for the district this year with a rate of 98%.
Landom Odom, Principal of Mount Zion High School said, "Our recent graduation rate continues to show our commitment to ensuring that each student at Mount Zion High School is successful. I am blessed to serve a wonderful community that partners with the schools in helping to ensure that the future of each individual student is a top priority."
Carroll County School System currently has more than 15,000 students in 23 schools across the county.  The district focuses on premier opportunities in academics, arts, and activities, as well as providing access to advanced STEM and STEAM programs to enhance the learning experience.
Dr. Jessica Ainsworth, Assistant Superintendent of School Performance stated, "We believe in providing multiple pathways to graduation to prepare students for their future through advanced placement programs, dual enrollment, and our two College and Career Academy locations. Our partnerships with the University of West Georgia and West Georgia Technical College allow students options for dual enrollment while attending high school. We are also proud of our long-standing community partners who support our high school students in the Southwire Engineering Academy, the 12 for Life program, and Tanner Connections.
Scott Cowart, Superintendent of Carroll County Schools added, "We strive through our future-focused priority for each student to be successfully enrolled, enlisted, or employed after graduation. All of our teachers and leaders are dedicated to positively changing the lives of Carroll County students, and we will continue to set high expectations for student achievement."
Data taken from Carroll County's graduates indicates that 72% of the Class of 2019 are continuing their education as enrollees at post-secondary institutions, while 19% have joined the workforce, and 8% have enlisted in our nation's military.
To obtain more information about the graduation rate data for the state of Georgia and other school systems, please visit the Georgia Department of Education's website.