(Carroll County, GA) On April 10, 2020 Deputy Dakota Blackwelder responded to a Domestic Dispute in the 100 block of DOT Road in Bowdon. As Deputy Blackwelder was speaking with the mother of Tammy Williamson (offender), age 56 from Bowdon to gather further information on what lead up to the dispute, Tammy appeared on the porch of the residence shouldering a 12 gauge shotgun and pointed it directly at Deputy Blackwelder and her 77 year old mother. Deputy Blackwelder drew his service weapon and Mrs. Williamson dropped the shotgun as her mother pleaded with her, "Don't do it." Mrs. Williamson was immediately taken into custody.
After Mrs. Williamson was safely secured on scene, it was discovered she had been threatening to kill other family members earlier in the day at a separate location and the family thought they had all the guns put away since they were in fear she may harm someone due to her intoxicated state and history of domestic violence.
We are very thankful this situation had a peaceful ending, but as emotions run high during the Shelter in Place Order, the situations our Deputies are facing are even more dangerous than ever before, as this call could have resulted in the death and or injuries of all those involved.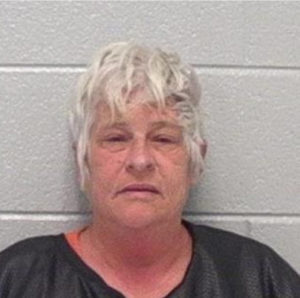 Mrs. Williamson is currently charged with one count of Aggravated Assault and one count of Aggravated Assault against a Peace Officer.
(this article was release by the Carroll County Sheriff's Public Information Office)