Rotary Club of Carrollton Dawnbreakers Receives Spirit of Giving Award
West Georgia Technical College had another record breaking year at its annual fundraiser, Black Tie & Boots. The WGTC Foundation raised $61,000 for scholarships and general student support at the 18th annual event earlier this month with over 40 event partners participating.
"Supporting West Georgia Technical College and our students is not only rewarding from a personal or philanthropic standpoint," President Dr. Scott Rule said. "Our College and Foundation have made giving fun and even prestigious. Black Tie & Boots is our signature event – executed to the highest standards – to recognize and thank our generous partners."
Country music superstar Craig Morgan performed in front of a sold-out crowd at the West Georgia Technical College's Murphy Campus Conference Center in Waco. Guests enjoyed a buffet dinner by Tulla White Catering of LaGrange. White is a graduate of the WGTC culinary arts program and a successful restaurant and business owner. The WGTC Foundation also hosted a live auction curated by Cade Parian of Carrollton.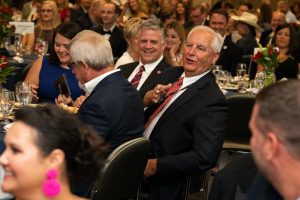 The Foundation also used the event to present its annual Spirit of Giving award to the Rotary Club of Carrollton Dawnbreakers for its years of steadfast support to adult education and its recently endowed student scholarship fund.
"The Spirit of Giving Award is a highlight of Black Tie & Boots, offering the college and the community an opportunity to acknowledge and thank an outstanding individual, family, or business for their exceptional contributions," said Kelsey A. Jones, Executive Director of WGTC Foundation. "In 2019, the WGTC Foundation chose to recognize the Carrollton Dawnbreakers Rotary Club for years of outstanding support for the adult education program and student scholarships at West Georgia Technical College. Most recently, the Dawnbreakers established a $25,000 endowment that will serve Carroll County WGTC students for years to come."
Initial funding for the endowment was completed in July 2018, and the first award recipients will be
announced in Spring Semester 2020. Recipients will receive a monetary scholarship to help fund their education and will also be extended an opportunity for mentorship with Dawnbreaker Rotarians.
Mentorship will be offered through invitation to club meetings, club community engagement activities and networking connections with club members.
"The Carrollton Dawnbreakers Rotary Club is proud to support the West Georgia Technical College adult education program and endowment fund to further enrich the lives of students," Dawnbreaker President Ryan Swertfager said. "We, as Dawnbreaker Rotarians, believe in Service above Self and the four-way test in everything we do to support our community. It is an honor for our club to be recognized by the West Georgia Technical College Foundation and the Board of Trustees for these contributions."
The WGTC Foundation raised $61,000 at this year's fundraiser which will allow the Foundation to provide student scholarships, purchase equipment, support advanced labs and classrooms and provide professional development opportunities for faculty and staff.
"We are so grateful to have celebrated another successful year of Black Tie and Boots and we could not do it without the help of our tremendous partners," Foundation President Bryant Hightower said. "We are pleased with this year's success, and we look forward to reporting back to the community and partners on the students' lives changed as a result of their generosity."
###