Work on West Georgia Technical College's new nearly 150,000 square foot campus in Carroll County is on schedule and has moved inside – a good thing considering the recent rainy weather.
With roofs on and exteriors walls up on both large buildings, workers are framing, wiring, plumbing and even hanging drywall in the main classroom building which is scheduled slightly ahead of the technical and industrial building.
"We are extremely pleased with the pace of construction and the way the campus is shaping up," WGTC President Dr. Julie Post said. "The weather earlier this year helped us out, and now with the roofs on and windows going in, the rain doesn't affect them as much."
Academic labs and classrooms spaces were planned with the help of current Carroll Campus faculty, Vice President of Academic Affairs Dr. Kristen Douglas said, and they are anxious to see their new space.
"With interior walls going up, we are now getting to the point where these spaces we envisioned and put on paper are really coming to life," she said. "We have worked to make sure we are providing state-of-the-art instruction, and unlike some of the redesigned or modified space we use now, these new classrooms and labs are specifically designed and equipped to support the latest and best technical instruction from the start."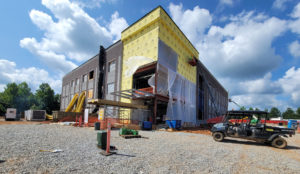 The 77,000 square foot main classroom building is a three-story, gray, brick and steel structure which will house the enrollment center including offices for admissions and financial aid personnel, along with labs for paramedicine and certified nursing assistant programs on the first floor. Also on the first floor will be Adult Education, which prepares students to obtain their high school equivalency through either the GED Test or HiSET.
The student center, bookstore and library will occupy a large portion of the second floor, with classrooms, computer labs and faculty offices filling the rest.
The top floor will include a large cosmetology salon and labs for chemistry, criminal justice, engineering and early childhood development. General classrooms will be scattered on all floors.
This building will be prominent to technology park visitors, facing a large roundabout already present on site. A two-story glass façade will welcome guests. This building is visible from the Highway 166 Bypass.
At 62,000 square feet, the single-story technical and industrial building is larger than a football field. Interior walls are being erected inside to divide it into four quadrants of labs for trade and industrial programs including diesel equipment, welding, industrial systems, precision manufacturing and construction trades. A pedestrian bridge connecting the two buildings is in place over a natural greenspace and wetland area.
A third, smaller building will provide space for maintenance equipment and staff. Large parking areas surround the buildings, with 693 spots proposed. A new driver training range is being built for the commercial truck driving program.
Total project cost will come in around $66 million.
"We are so grateful for the support we have from the governor and general assembly, and also our local partners like the Carroll County Development Authority, which donated the property," Post said. "This will be a campus Carroll County will be proud of, where we can bring people to show them the best of what we can offer students and our business and industry partners for their workforce development needs."
The new campus – situated inside the Buffalo Creek Technology Park – is scheduled to open in 2022 and replace the College's 52-year-old campus on Newnan Road. Programs currently offered at the Newnan Road campus will relocate to the new campus.
West Georgia Technical College, with campuses in Carroll, Coweta, Douglas, Haralson and Troup counties and class sites in Heard and Meriwether counties, offers more than 120 associate degree, diploma and technical certificate programs of study. A unit of the Technical College System of Georgia, West Georgia Tech is one of the largest of the state's 22 technical colleges. For more information, please visit www.westgatech.edu.