West Georgia Technical College has named Iveta Kral, an engineering technology student from Sharpsburg, as its 2022 Georgia Occupational Award of Leadership winner and Murphy Campus Clinical Laboratory Technology instructor Dr. Phyllis Ingham as its 2022 Rick Perkins Award winner.
Winners were named November 30 at a banquet honoring finalists for both awards.
GOAL is a statewide program of the Technical College System of Georgia, which honors excellence in academics and leadership among the state's technical college students.
The Rick Perkins Award is designed to recognize and honor technical college instructors who make significant contributions to technical education through innovation and leadership in their fields.
Both Kral and Ingham will compete against winners from other Georgia technical colleges in a regional competition in February before participating in the state competition, held in Atlanta in April.
"I am so proud of Iveta and Phyllis for their selection as West Georgia Technical College's representatives in the GOAL and Rick Perkins Award competitions," West Georgia Technical College President Dr. Julie Post said. "They represent the very best of the outstanding educators and amazing students at West Georgia Tech. On behalf of our students, staff and stakeholders, I offer best wishes for our two winners in the next phase of the competitions."
Kral was nominated by speech instructor Beverly Kirk. In her nomination, Kirk wrote, "Iveta excels in her own coursework and expresses empathy towards her classmates. Often she sought out her quieter more reserved classmates to draw them into the conversation and help them gain self-confidence."
GOAL coordinator and Dean of Students Melinda Hofius said, "Iveta is a perfect ambassador for technical education, and I know her story will inspire women just like her to enroll in STEM programs. I'm so excited she'll be representing us at the Regional and State competitions this year!"
The other three finalists for the WGTC GOAL award were Early Childhood Care & Education student Amber Cotton, Clinical Laboratory Technology student Joshua Mize and Early Childhood Care & Education student Tenee Terry.
Ingham was nominated for the Rick Perkins Award by Nikki Gilbert, Dean of Health Sciences. In her nomination, Gilbert wrote, "Dr. Ingham is well-respected among her peers and in industry due to her dedicated involvement in field. She is a great ambassador for the college and for technical education!"
Ingham was selected out of a field which included six other WGTC instructors – Registered Nursing instructor Tara Alsobrook, Precision Manufacturing instructor John Callaway, Mathematics Instructor TaTanisha Jackson, Computer Information Systems instructor Tara Shackleford, English instructor Kyle Taylor and Nurse Aide instructor Sara Worsley.
First launched in 1971, GOAL focuses on student excellence in technical education by focusing on academic excellence and personal achievement. A panel of judges selects one student as the state GOAL winner, which is announced at the state competition in April. The 2021 state GOAL winner is West Georgia Tech's own Elizabeth Rodriguez. She received a new Kia K5 courtesy of and Kia Georgia, Inc. and has been touring the state as an official ambassador of technical education.
The Rick Perkins Award for Excellence in Technical Instruction honors technical education's most outstanding instructors. Formerly known as the Commissioner's Award of Excellence, the Rick Perkins Award was renamed in memory and honor of Thomas "Rick" Perkins, an instructor of the former West Central Technical College, who received the Commissioner's Award of Excellence prior to his untimely death.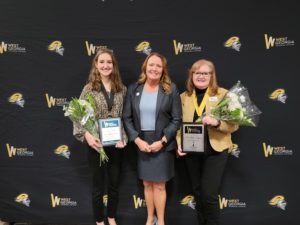 West Georgia Technical College has named engineering technology student Iveta Kral its 2022 GOAL winner and Clinical Laboratory Technology instructor Dr. Phyllis Ingham its Rick Perkins Award winner for 2022. West Georgia Tech President Dr. Julie Post (center) congratulated the winners at a banquet honoring all those nominated for the awards.