CARROLL COUNTY, Ga. (December 10, 2020) – Carroll County School System is pleased to announce that Tim Barron has been named Head Football Coach for Villa Rica High School.
"We welcome Coach Barron to the Carroll County family and are very excited about what he brings to VRHS and to our district. His standards of excellence and ability to build strong, competitive athletes with a drive for success makes him a perfect fit for this position," said Scott Cowart, Superintendent of Carroll County School System.
Seth Rogers, Principal of Villa Rica High School added, "Coach Barron recognizes the importance of character and culture serving as the foundation for creating champions on and off the field. His leadership, talent, and many years of experience will continue to advance our student athletes and our football program as a whole."
When Barron joined Heard County High School 19 years ago, he inherited a program that had finished their season 0-11. The next year, Barron and his coaching staff led the team to a 10-2 season. Since that time, HCHS has had 18 state play-off appearances, earned 7 region titles, and won the 2018 State Championship.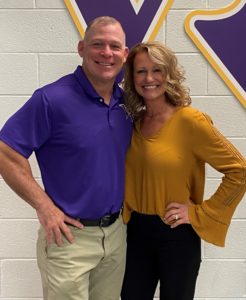 Barron and his wife, Laura, live in Carroll County. Their son, Austin, recently graduated from the University of West Georgia and is a coach in Cedartown, Georgia. Laura is part of the Carroll County family and serves at Sharp Creek Elementary School.
"Coming to Villa Rica High School is about much more than winning football for me," explained Coach Barron. "Building relationships and working with coaches who believe that students come first is the framework for success. Winning is the product of these efforts. I am excited to join Carroll County's 24STRONG team, and my commitment to the Villa Rica community is that caring for students and helping them reach their full potential will always be my top priority."