A group of people gathered near the heart of the University of West Georgia's campus Thursday afternoon, observing a moment of silence. All you could hear were the cicadas in the trees, chirping the same sound they've been making for millions of years.
This group of interested individuals – comprised of UWG faculty and staff members, local community members, and descendants of people who likely heard that same sound of cicadas during their time on earth – came together to learn more about and discuss the findings of a possible cemetery on the campus in a second advisory group meeting hosted by the university.
UWG recently sponsored an archaeological survey of an area between Front Campus Drive and the center of campus in which archaeologists discovered evidence of the strong possibility that a cemetery is present in the area.
The findings are consistent with historical reports that place a cemetery on the former Bonner Plantation that is now the UWG campus in the grassy area between Melson Hall and the Old Auditorium.
"This is not a simple, easy topic to talk about, but it's an incredibly important topic to talk about," said Dr. Micheal Crafton, UWG's interim president, during his remarks at the meeting's outset. "We are seeking the truth that will place us in the heart of the matter, where we can honor our past and grapple with these ideas with a great amount of respect."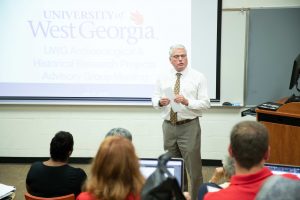 Crafton also introduced the project's two co-chairs: Dr. Stacy Boyd, associate professor of English and Africana Studies and associate chair of UWG's Department of English, and Dr. Ann McCleary, professor of history and founding director of UWG's Center for Public History.
Boyd said his goal as the initiative's co-chair is two-pronged.
"I want to bear witness and testify," he said. "I want to bear witness to and learn the truth of the stories these families have to share, and I want to testify by helping tell the two stories I see playing out in this project: the stories of these families, as well as the story of how UWG is handling this discovery and dealing with its past."
In late June, archaeologists with Southern Research, Historic Preservation Consultants returned to Carrollton to determine the boundaries of the possible cemetery site. During this visit, the archaeologists completed that task, finding that the possible cemetery is likely limited to the area to the west of Melson Hall at the top of the knoll on Front Campus Drive.
Dean Wood, principal archaeologist with Southern Research, presented the preliminary findings from his most recent visit to the advisory group, which included numerous descendant family members of the enslaved persons connected to the Bonner Plantation, local and UWG historians, and interested community members.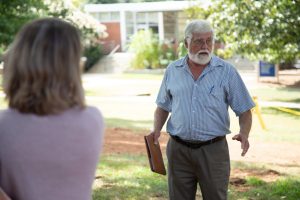 "The work we completed resolved the questions we had about the probable boundaries of the cemetery, as we investigated seven areas of land surrounding our initial survey site," Wood said, adding that no remains were disturbed – or even encountered – during his firm's work.
Southern Research will now compile its findings, along with historical information captured by the Center for Public History and Ingram Library's Special Collections, into a final report that will likely be delivered to the university sometime before autumn.
During her portion of the meeting, McCleary – along with Keri Adams, assistant director of the Center for Public History – shared with the group the center's research plan, including its goals for their portion of the project, research methods, plans for capturing oral histories from descendant family members of enslaved persons related to Bonner Plantation, and how the center will archive and share any findings.
McCleary also shared the project's new title – "Along the Ridge: Reflections on a 19th Century Cemetery on the University of West Georgia Campus." The phrase "Along the Ridge" was taken from an excerpt written by Abe Bonner, an enslaved laborer on Bonner Plantation, in his "Reminiscences." "Our slave quarters were strung along the ridge from the rear of the kitchen," Bonner wrote. "We also had our own burying ground."
The UWG Center for Public History plans to capture oral histories on video for approximately the next year at the rate of about one interview per month beginning next week. Between each interview, historians will continue scouring ancestry records, deeds and items found in UWG's Special Collections to develop a report of its current findings sometime in the fall semester.
Brendan Bowen, UWG's associate vice president of campus planning and facilities, spoke on the memorialization process of the area, saying that his chief concern is to ensure any effort toward memorialization aligns with the descendant family members' wishes.
"Our plan at this point is to find a way to provide a memorial of this sacred space in perpetuity so future generations will remember this story we're telling," Bowen said. "We have some wonderful ideas, but at the end of the day, it's of paramount important that our partners in the community and in the descendant families tell us their thoughts and ideas on how we should memorialize this space. After all, this is your story, not ours."
Bowen intends to contract a historical architect who can consult university leaders on how best to complete the memorialization phase of Along the Ridge with a sensitivity to what is likely sacred ground. Fortunately for this part of the project, a commitment has been made in the past three campus master plans, dating back to the early 2000s, that this area would remain untouched with no plans to develop this part of campus.
Following consultation with a historical architect, Bowen's office will host several town hall meetings in which members of the public can attend and voice their opinions on how the area should be memorialized. Bowen said those townhall meetings would likely be held sometime in the next six months, with a hopeful start date on the memorialization project in early spring 2020.
"This is going to be a lengthy, deliberate process so that we can ensure we do the right thing by everyone and not skip any steps," Bowen said. "Above all else, we want to make sure all descendant family members who want to be a part of the project can advise us on their wishes."
Bowen, who has more than three decades of experience in higher education facilities management, said he's never worked on a project as important as this.
"During my career, I've worked on a lot of meaningful, important projects, but I don't recall one that had this sort of gravity," Bowen said. "This is not just UWG's story. This is several families' story. And this is part of America's story."
For more information on the Along the Ridge project and to learn how you can become a project partner, visit https://www.westga.edu/news/bonner-plantation/index.php.
written by: By Colton Campbell, UWG Communications