Honoring our trees: By Colton Campbell
The University of West Georgia has been named a Tree Campus USA honoree for the eighth year in a row.
To obtain the distinction from the Arbor Day Foundation, UWG met the five core standards for an effective campus forestry management. Marshall Lott, grounds maintenance superintendent at UWG, said the eight-year streak shows a tradition of commitment to maintaining the campus' tree canopy.
"Trees provide many benefits like oxygen, clean air, carbon storage and habitat for wildlife, and they increase property value and provide raw materials for nearly every industry in our country," Lott said. "That's why they are a vital part of our campus, and everyone on campus – from our visionary leaders to the people who do the work every day to maintain all our trees – is honored to have received this recognition for the eighth year running."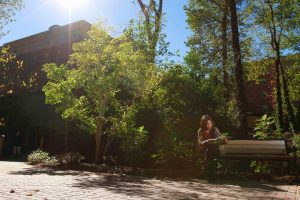 The five core standards set out by the Arbor Day Foundation to earn the Tree Campus USA distinction are the establishment of a tree advisory committee; evidence of a campus tree-care plan; dedicated annual expenditures for its campus tree program; an Arbor Day observance; and the sponsorship of student service-learning projects.
According to the Arbor Day Foundation, UWG has met those core standards year after year.
"Your diligence in improving the environment and quality of life at the University of West Georgia contributes to a healthier, more sustainable world for us all," said Dan Lambe, Arbor Day Foundation president, in UWG's award letter. "Your entire campus community should be proud of this sustained commitment to environmental stewardship."
Fred Ricketson, UWG's director of facilities and grounds, said being named a Tree Campus USA site is a tangible representation of the university's dedication to its outdoor environment.
"Our tree canopy is something other schools will never be able to duplicate," Ricketson said. "The men and women who dig into the soil and prune trees to make sure they have long, healthy lives have a passion for their work to be the best stewards for our campus environment. What we do affects everyone who visits our campus on a daily basis, and they may not even know it."
Tree Campus USA, a national program launched in 2008 by the Arbor Day Foundation, honors colleges and universities and their leaders for promoting healthy trees and engaging students and staff in the spirit of conservation.
"If ever there was a time for trees, now is that time," Lambe said. "Worldwide, we are facing issues with air quality, water resources, personal health and well-being, and energy use. By earning Tree Campus USA recognition, UWG has shown its commitment to protecting and preserving its valuable tree resources and will reap their benefits for generations of students to come."