When the University of West Georgia's Clint Samples embarked on a public art project almost a decade ago, his goal was to create a visual expression of the bond between the community and the university.
"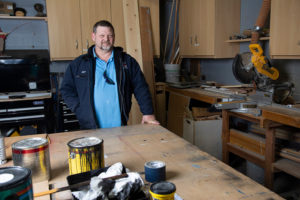 As a lifelong native of Carrollton and Carroll County, the Howl for UWG project was about showcasing pride in my school and home," said Samples of the grassroots effort where artists created life-sized, fiberglass, howling wolves that roam campus and the community. "The wolves connect art, academics and athletics with a strong sense of community pride."
Samples – a UWG alumnus, professor of arts, and associate dean of the College of Arts, Culture and Scientific Inquiry – modeled the project after CowParade, an international herd of painted cows that raised millions of dollars for charity. Howl for UWG raised approximately $75,000, a portion of which supported UWG's general scholarships with the remainder used to establish an endowment to honor Bruce Bobick, the former chair for the Department of Art.
With one of the wolf art pieces – known as "Spirit Wolf" – fellow alumnus Seth Fitts' blended Georgia's red wolf, red clay, pine trees, and Blue Ridge mountains; Native American motifs; and spirals indicating expansion and continuity, reflecting the growth of community.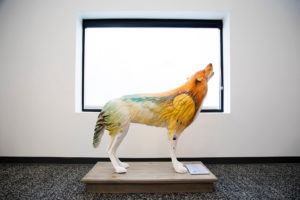 "Spirit Wolf" lived outside at the Neva Lomason Memorial Library until 2015 when its two front paws were unfortunately broken off. Samples knew repairing them would be difficult.
Since the library was about to undergo renovations, it was in the wolf's best interest to return to UWG. It remained in Samples' office until, five years later, he got a call.
"'Spirit Wolf' symbolizes our investment in Carrollton's community and culture, and we were thrilled to have it back," said Rachel Linn, library manager. "Seth Fitts' painting of a mythic, dreamlike landscape evokes far-off places and deep forests. What better place than a library to house a work of art that plumbs the depths of the imaginative landscape, while also celebrating local history?"
Samples was skeptical at first.
"I had serious concerns about our ability to put the wolf back on display," he confessed. "I asked our colleagues in facilities for help and got a quick response."
Facilities and Grounds' Glenn Ratzlaff stepped up to the task.
"When 'Spirit Wolf' arrived in my shop, he was in bad shape," Ratzlaff recalled. "Broken and missing feet were his worst issues, but he also had fractured limbs, as well. I used patterns I made from his back feet to replicate his missing front feet out of wood and Bondo putty. I then mixed paint to match what was used originally, filled in all the cracks and painted him."
Next, Ratzlaff took some old basketball court bleachers from the Campus Center and reclaimed the wood, stained it to match and sealed it to create a pedestal.
"It really meant a lot to me to get 'Spirit Wolf' back on his feet, and I'm proud and honored to be the one chosen for the task," he said. "Since then I've repaired the wolf outside the Education Center after it suffered a similar accident."
Samples said he couldn't thank Ratzlaff enough for his skill and timeliness in restoring the piece.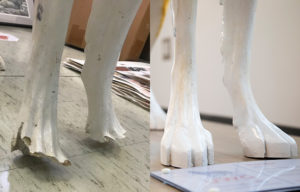 "The work was perfect; you can't even tell that the wolf was ever damaged," Samples boasted. "Without Glenn and the carpentry team, 'Spirit Wolf' would still be living in the back of my office. To me, the facilities staff are the glue that holds the university together."
"Spirit Wolf" and his pack continue to serve as a metaphor for community as much today as it did in the past.
"Looking back, the wolves supported the academic success of our students and strengthened community partnerships," he concluded. "Looking forward, I hope the wolves help bridge our former strategic plan with the new one, specifically 'placemaking' within the three pillars that [UWG President] Dr. [Brendan B.] Kelly has proposed. I think 'Spirit Wolf' certainly helps to create a sense of place and pride on campus and the community."
by Julie Lineback/ photography by Julia Mothersole