Ashley Dycus, a lecturer of English at the University of West Georgia, recently partnered with Keep Carroll Beautiful (KCB) to create environmental education materials in her classes.
Keep Carroll Beautiful is a local nonprofit that works to protect the environment through community events, education and volunteer engagements.
Recently, students in Dycus' English 1101 and 1102 classes created educational materials for KCB to use during events.
UWG student Raven Holbrook touched on the value of incorporating environmental awareness into a course.
"Professor Dycus allowed us to not only improve our writing skills in English 1101 but to do so through a lens of environmental sustainability, which I believe is the first step in progressing to a more sustainable world," Holbrook said.
In the spring, students developed various types of kid-friendly materials that were used by both UWG and KCB to educate children about the environment.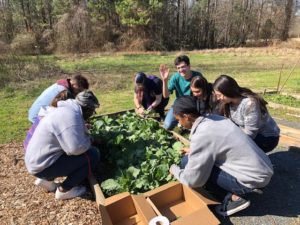 The students had two main goals. The first goal focused on creating educational materials for children regarding local sustainability. The second goal involved website design that engaged younger audiences in environmental studies.
"The whole point of English 1101 and 1102 is rhetoric," Dycus explained. "We're looking at communicating to different audiences for different purposes. What better way to do that than figuring out how we would relate to children or middle schoolers and encourage them to recycle."
For the past three years, Dycus has incorporated sustainability and service-learning into her coursework.
"Service-learning and sustainability are intertwined," she said. "In order for us to do service-learning that matches with the content for my course, we talk about sustainability in all different kinds of ways. So we're looking at environmental sustainability, social sustainability, economic sustainability and how those all play together."
Dycus' students, past and future, gain hands-on experience by planting seeds and harvesting produce in the campus garden that is located behind the UWG Observatory. The harvested produce is then donated to Open Hands Soup Kitchen in Carrollton.
"I feel like there has to be a hands-on aspect in order for students to make the connection with the material and see why it's important," she explained.
In the past, students translated that hands-on experience in the garden to the classroom by developing educational materials for Eco Leaders, a campus sustainability group where Dycus serves as the faculty advisor.
Students continue to work with KCB to help create educational tools that are distributed in the community. Dycus plans to continue her partnership with KCB so students will continue to feel a sense of pride and purpose in their work.
Next, the students in her class will be working with KCB to design kid-friendly signage that will be displayed on the GreenBelt as well as interactive materials for KCB's Creek Expo.
For more information please visit Keep Carroll Beautiful.
by Emily Sprewell