By Colton Campbell
If America runs on Dunkin', then – in a way – America runs on a company that is the brainchild of Scott Carter.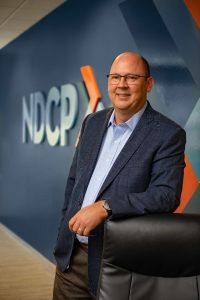 Carter, a University of West Georgia alumnus, is the CEO of National DCP, the $2.1 billion supply chain management cooperative serving the franchisees ofDunkin'. Carter, a 1994 UWG graduate, found his life's passion as a business management major in the Richards College of Business: teamwork.
"I learned a lot about teamwork at UWG," he said. "The camaraderie I found in the relationships I formed at West Georgia – both inside and outside the classroom – has inspired me for the past 25 years. Everyone has something valuable to contribute – and every contribution is different. I learned that at West Georgia."
Foodservice is in Carter's blood. One of his first jobs was working with his dad on a warehouse floor, picking and loading cases of burgers, fries and Cokes to be delivered to fast-food chains across America. Now, he oversees the strategic vision, transformative processes and sustainable growth for the eighth-largest privately held company based in Atlanta.
"Because of that experience when I was younger, I have absolute respect for what our employees do every day, working hard to ensure our deliveries are made accurately and on time," Carter said. "Every pound that has been loaded and unloaded off a truck has been touched and lifted by someone, and I know firsthand how taxing of a job that can be."
Even though it sounds like Carter has everything figured out, he said he still doesn't know what he wants to do when he "grows up."
"I am on a journey of constant learning and self-discovery," he said. "At West Georgia, I was able to have direct access to my professors, so I could pick their brains and find my passion through their expertise. That's not possible at a larger institution."
That intellectual curiosity has served Carter well. In his distinguished career, he's pushed the envelope by thinking differently when it comes to the relationship of all partners in the foodservice supply chain. He's aligned all of the players – major restaurant brands, suppliers, manufacturers, distributors – together around the common goal of profitable store operations.
And it's working. Under Carter's leadership, NDCP has generated more than $649 million in cost savings for members.
Carter chose business management as his major from the start. That education and training served him well soon after he graduated, earning a position with Ernst & Young, considered one of the "Big Four" accounting firms.
"I was fortunate to be identified as a valuable resource in executing supply chain management," Carter said. "Because of that experience, I was able to live and work internationally and negotiate mergers and acquisitions with large companies around the globe."
Prior to joining NDCP, Carter served as the chairman and chief executive officer of Supply Chain Associates, a leading management consulting firm, and as a strategic adviser to numerous Fortune 500 companies throughout his career. Carter has also held executive roles with CHEP a Brambles Company, Coca-Cola Inc., McDonalds Corp., and UPS.
The Chicago native moved to Georgia when he was 6 years old and attended a small, private high school. When he was searching for a college to attend, he said a larger school would have been overwhelming.
"West Georgia was the perfect fit for me – small enough to feel like a small town, but large enough to offer me everything I needed at the time," said Carter, who met his wife at UWG. "My connection to the world and, really, my home was West Georgia."
Carter's advice for students attending UWG a couple of decades after he left? "Show up, show up on time, and show up on time dressed to play."
"Be present and be a part of everything so you can remain engaged," he said. "Beyond that, be respectful of other people and their time. And even more than that, be prepared wherever you are."