CARROLLTON, GA –  A Carrollton Upper Elementary School teacher is one of 35 teachers across the state to be recognized as an outstanding ESOL educator.
Tina Turner, an English to Speakers of Other Languages teacher last spring received the 2020 ESOL Exemplary Teacher honor presented by the Georgia Department of Education. In lieu of an in-person recognition ceremony, a virtual presentation was released Oct. 30 highlighting all 35 recipients.
English to Speakers of Other Languages (ESOL) is the state-funded language instruction educational program for eligible English learners (ELs) in grades K-12 in Georgia public schools. As an ESOL teacher, Turner focuses on developing her EL students' academic English proficiency to support success in school. Prior to serving as an ESOL teacher, Turner taught French at Carrollton Junior High School.
"Mrs. Turner is the epitome of what a principal looks for in a teacher," said CUES Principal Stacy Lawler. " It does not take but a second to see that she loves her students and her students love and appreciate all of the things that she does for them to set them up for success.
"A language barrier has to be one of the most frustrating things, and I have been on both ends of it," he continued. "Mrs. Turner provides opportunities for her students to grow, develop, and be successful every day, and she does it in a way that captures their hearts. We are blessed to have her at the CUE. We are better because of her."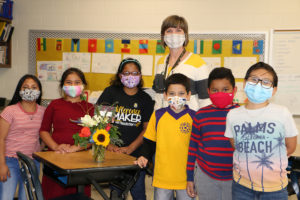 Tina Turner and students in one of her ESOL classes pose for a picture following a state DOE virtual recognition ceremony honoring Turner and other ESOL teachers across the state. From left are Yoselin Pastor Perez, Yoselin Pastor Perez, Cathryn Munoz, Josue Martinez Duarte, Jose Mora, and Iker Delcid-Gonzalez.