Carrollton High School seniors Emily Conn, John Van Valen and Andrew Herndon have been named Commended Students in the 2022 National Merit Scholarship Program. They each will be presented a Letter of Commendation from the school and the National Merit Scholarship Corp., which conducts the program.
Being recognized for their exceptional academic promise are a total of about 50,000 Commended Students nationwide. Although they will not continue in the 2022 competition for National Merit Scholarship awards, Commended Students are among the top 2 percent of more than 1.5 million students who entered the 2022 competition by taking the 2020 Preliminary SAT/National Merit Scholarship Qualifying Test.
Emily, the daughter of Jody and Sharon Conn, is involved with National Honor Society, National Spanish Honor Society, National Art Honor Society, Beta Club, HOSA, Outdoors Club, attended the state leadership conference for HOSA and was an Honor Marshall her junior year.
John, the son of Gary and Carola Van Valen, is captain of the Speech and Debate Team, Academic Bowl, and Jimmy Carter History Bowl, as well as being involved with Student Council. Van Valen was an Honor Marshall his junior year and is also an AP Scholar with Distinction.
Andrew, the son of Neal and Lisa Herndon, is involved with National Honor Society, French Honor Society, Student Council, Academic Team, Key Club, Stream Renovation Club and Cross Country. He has a black belt in Taekwondo and plays the pan flute in shows at the Aurora Theater.
"All of these students are among our top academic performers, but are also well-rounded, gifted students involved in many school activities," said CHS principal Ian Lyle. "That is a combination for life success that will serve them well. We are very proud of all of them."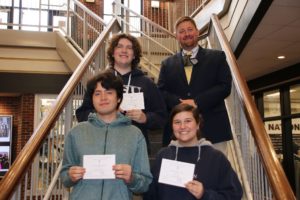 Pictured are the Commended Students in the 2022 National Merit Scholarship. Top row are Andrew Herndon and CHS principal Ian Lyle and bottom row are John Van Valen and Emily Conn.