A Gainesville, Georgia-based real estate company is advertising approximately 7500 acres of property for sale—in Whitesburg. The price is listed at 34-million-dollars.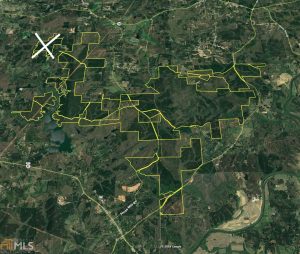 The land, advertised by Norton Real Estate, was once part of a 12,000-acre property which more than a decade ago was being considered for residential, commercial, retail and light industrial development, including single-family homes and apartments, a conference center, golf course and a 2,500-acre park.
In 2006, with the property owned by Temple-Inland, some Carroll County officials saw the planned development as possibly a good thing for the region.
However, community uproar, a public and media campaign headed by a group of nearby property owners led by Kevin Jackson, and an economic downturn helped shut down any plans. Motivated by his fight to "keep Carroll County rural," Jackson sought and won the District 5 seat on the Carroll County Board of Commissioners in 2008.
A reduced portion of that initial property is now owned by Blenheim Timber. The lesser acreage is advertised as being "17 miles from I-85, 16 miles from I-20, and 30 miles from Atlanta Hartsfield International Airport." Additionally, as of Thursday November 7th, the property is promoted as having a "level topography" and is "perfect for development" with "frontage on an approximately 1200-acre lake."
That info could be intriguing to residential or commercial developers.
However, according to Carroll County Community Development Director, Ben Skipper, "All of the property for sale is zoned for agriculture." Skipper adds that the Carroll County Board Of Commissioners has designated the property's future land use as Ag.
Furthermore, Carroll County Commission Chairman Michelle Morgan Thursday told WLBB Radio that she has spoken with the real estate agency in charge of promoting the property. The group reportedly approached the county to better understand the property's potential use. Morgan says she has told them that she does "not want to give any potential buyers false hope." If a buyer has the idea to build homes or businesses on the land, Morgan says she will not support changing the zoning to accommodate.
"I'm going to vote for the way we have designed this future land-use map and that particular area is designated Ag," she said. "I will continue supporting anything Ag related going on that piece of property. So, if we are looking at retail or subdivisions or anything like that, I feel it would not be an appropriate use of this land."
The remaining six members of the Carroll County Board Of Commissioners would also have a say as far as the zoning.
If Carroll County government would not consider changing the zoning for residential or commercial developers, the property could still be attractive to a group interested in the potential to make money cutting and selling the available trees. The advertisement claims the property holds an estimated 572,354 tons of hardwood and pines aged 5 to 70 years old, with an estimated value close to 17-million dollars.