The Haralson County Sheriff's Office mid-day Friday responded to call of a crashed vehicle with injuries off Morgan Road, just west of Corinth-Poseyville Road. They soon learned the cause of the crash was the driver had been shot.
Haralson County Sheriff Stacy Williams said the call came to authorities around 3:14pm  Friday.
" The passenger of the wrecked vehicle told deputies that when they had come off Corinth-Poseyville Road, a white SUV— which we later determined was an older model Jeep— was parked in the road and a white male was standing in their traveling lane," Williams told WLBB Radio. "The driver of the vehicle attempted to drive around the man in the road. As he did, the man in the road fired one shot into the vehicle, striking our victim."
Williams said surveillance video in the area and an additional witness have provided supplementary information in the preliminary investigation.
"The bullet penetrated the driver's seat and entered near his spine. There is no exit wound," Williams said. "The vehicle left the roadway and crashed into a tree."
The shooting victim has been identified as 30-year old Christopher Hetling of Temple. He is being treated in an Atlanta area hospital and is said to be in serious condition. His passenger is also being treated for injuries.
The suspect's vehicle has been identified as a mid-80s to early 90's light or white colored Jeep.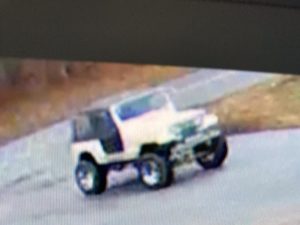 Should anyone have information on the incident or a tip regarding the Jeep allegedly involved, Williams encourages them to call the Haralson County Sheriff's Office or call 911.
Haralson County E-911, Haralson County Fire Rescue and the GBI Crime Scene Unit assisted deputies on Friday.