Tanner Health System is taking its first steps toward a return to normal operations as it begins to remove the external care tents on its hospital campuses in Carrollton, Villa Rica and Bremen. 
The tents were erected outside the emergency departments at Tanner Medical Center/Carrollton, Tanner Medical Center/Villa Rica and Higgins General Hospital in Bremen as the organization prepared for an influx of patients from the COVID-19 pandemic. They've been in place for about a month. 
The tents served as auxiliary care sites, complete with exam tables, recliners and climate control.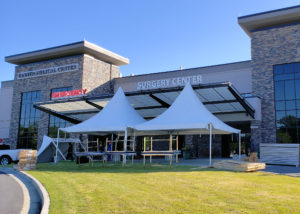 As the increased number of COVID-19 positive cases and admissions have flattened for the health system, Tanner's emergency department leadership has determined the exterior care sites are no longer necessary. 
 "Our emergency departments are designed for flexibility," said Timothy Paul, MD, a board-certified emergency physician with Tanner. "We built them to accommodate a wide range of needs — from an influx of major trauma to a pandemic response. As the surge of COVID-19 begins to flatten, we can be confident that our existing units can meet the expanded need without requiring the additional space." 
 The health system's 24-hour emergency departments have remained open to all patients during the COVID-19 crisis, serving not only pandemic patients but patients experiencing trauma, heart attacks, stroke and other medical emergencies.  
 "Preventing the spread of infectious disease is what we do as a hospital," said Richard Warren, MD, also a board-certified emergency physician at Tanner. "When the COVID-19 pandemic began, we worked with our infectious disease experts to implement protocols that kept non-COVID-19 patients away from those who had the virus or were suspected to have the virus.  
 "Patients should not worry that they're going to get sick if they come to the hospital for care; keeping them safe is part of our core mission," he said. "It's what we do every day." 
 Taking down the tents is part of the health system's first moves to return to normal operations. Due to the recent shelter-at-home restrictions, Tanner has experienced a back-log of surgical procedures, many of which have become urgent. Plans are underway to begin surgical procedures within the next two weeks.  
 The emergency departments are also preparing to offer appointments for the first time. Patients can call 770-812-9561 in Carrollton or 770-812-3186 in Villa Rica to schedule an appointment to be seen faster.  
 The physicians urged residents to continue social distancing and take precautions to limit the spread of COVID-19 so the tents won't be necessary again. 
 "We're able to take down the tents because our community responded appropriately to the COVID-19 threat," said Dr. Paul. "Social distancing, staying away from crowds, sheltering at home — all of these have stopped the spread so we can keep pace with caring for the sick. And that's going to remain important in the weeks to come to ensure we don't encounter a second surge." 
 More information on the health system's COVID-19 response can be found online at tanner.org/ncov.