CARROLLTON, GA –  A teacher who discovered during a student aide assignment when she was in high school a passion for serving students with disabilities was named the Carrollton City Schools 2019-2020 Teacher of the Year at Tuesday's Board of Education meeting.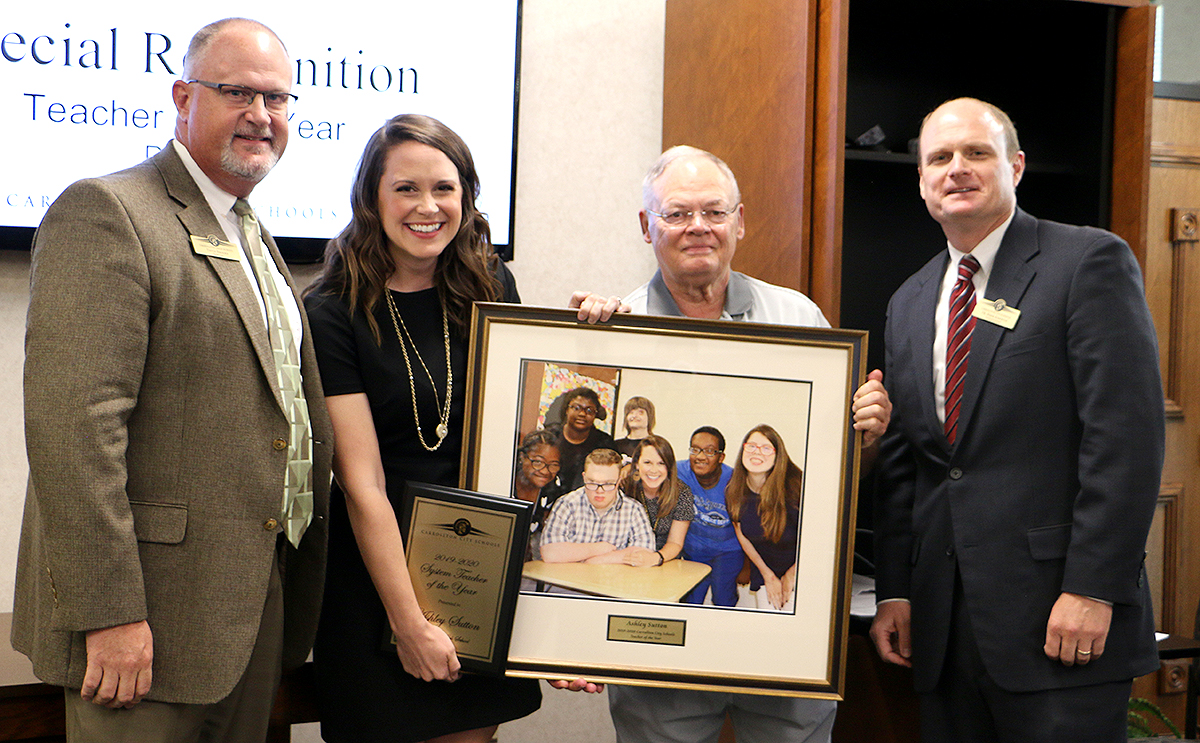 Carrollton City Schools 2019-2020 Teacher of the Year Ashley Sutton poses with, from left, Carrollton High School Principal David Brooks, Carrollton Board of Education Chairman Dr. Jimmy Pope, and Carrollton City Schools Supt. Dr. Mark Albertus following the announcement of her selection.
The selection of Carrollton High School special education teacher Ashley Sutton was announced following glowing reports school principals presented about their respective TOTYs. The other Teachers of the Year are Jennifer Day, Carrollton Elementary School; Michael Hilbert, Carrollton Upper Elementary; and Maria Menendez, Carrollton Junior High School.
Last spring, each school announced its school-level representative to serve this year. From that pool of candidates, a district team studied applications and evaluated the teachers in the classroom to decide which one will represent Carrollton City Schools for 2019-2020 and compete for statewide honors.
"We truly believe all of these teachers are exceptional examples of excellence in the classroom, but only one can serve in this system-level role," said Dr. Mark Albertus, superintendent. "Mrs. Sutton will represent Carrollton City Schools very well."
Four community sponsors allowed for each teacher to also receive a monetary award in addition to a name plate and flowers. Sponsor of the district award is Carrollton Office Equipment and the other award sponsors are J. Smith Lanier, Morris Auto Sales and Ozier Apparel.
"Our community sponsors allow us to make this event even more special," said Dr. Albertus. "We appreciate their commitment to our school system and supporting our teachers in this way."
Learn why each of these teachers is exceptional:
ASHLEY SUTTON
CHS Teacher of the Year
Unlike many teachers who received the calling when they were still students themselves, Ashley Sutton, the 2019-2020 Carrollton High School Teacher of the Year, struggled in figuring out what she wanted to do after high school.
"I envied people who were confident in what they wanted to be when they grew up," said Sutton. "My friends spoke of wanting to be doctors, lawyers, nurses, teachers and engineers. I lacked a true passion for anything."
But during her senior year, that all changed when she was assigned to be a student aide for a self-contained special education classroom. Within a few days, she experienced "a spark of passion that would grow into a flame in years to come."
She specifically remembers Allen, a classmate of hers with cerebral palsy who was also 17 years old and a senior.
"The time I spent with Allen opened my eyes to how much of a privilege it is to work with students with disabilities," she said. "It was a life-changing experience with such a genuine young man who did not let the circumstances of his life negatively affect his attitude and who embraced life's simple pleasures with joy and wonder."
Sutton is now a self-contained teacher herself at Carrollton High School, teaching math and language arts in addition to vocational and life skills to her students. She also is involved in the Community-Based Instruction program that exposes her students to life outside the classroom in an effort to prepare them for the real world.
"Seeing my students transform academically, socially, vocationally, and adaptively is by far my most treasured achievement," said Sutton.
"Mrs. Sutton does a great job in the classroom caring for and teaching her students," said David Brooks, CHS principal. "She builds lasting relationships with all her students. The parents and students all love her.  She is dedicated to her profession, her students and CHS."
JENNIFER DAY
CES Teacher of the Year
Jennifer Day comes from a long line of educators: Her father was a pastor who taught others about Christianity; her mother an elementary school teacher. Her sister and a slew of cousins also are teachers and she can't remember a time when she didn't want to be one, too.
"Being surrounded by other educators as I grew up, I have seen the importance of this profession and always felt a calling to teach," said Day, who was named the 2019-2020 Carrollton Elementary School Teacher of the Year. "I also have been blessed with some very special teachers in my personal educational experience. I can only hope and pray that I might be able to positively influence my students in the same way and they would remember me down the road."
Day said one of the most rewarding aspects of her job is seeing the educational growth of a child.
"It is an amazing feeling to see the look on the face of a child who has accomplished a task or met a goal that has been hard earned," she said. "Student success looks different for each child I teach, and I believe it is my job to do all I can to help them get there."
Day's penchant for the struggling learner has led her to a new role this school year. While still a Carrollton Elementary School second grade teacher, she will be reaching more students in other classrooms as an early intervention specialist.
"One of the most challenging aspects of teaching is reaching students who come from homes made up of different beliefs, customs and families," she said. "It takes time and intentionality to get to know my students, but it is important that I know my students so that I can reach them."
"Ms. Day is a dedicated and experienced educator," said CES Principal Kylie Carroll. "She pours into her students, and she holds all to high expectations for success. Ms. Day is well respected by her colleagues, and she is a valued and loved member of the CES family and the Trojan Nation."
MICHAEL HILBERT
CUES Teacher of the Year
To Michael Hilbert, returning to his alma mater to teach was the right thing to do. While he enjoyed success and moved up the leadership ladder in a manufacturing company, he knew there was more to life and he was missing it.
"Each day on the job, I found myself searching for a bigger purpose, a better way to make an impact and do everything I love to do," said Hilbert, who was named the Carrollton Upper Elementary School Teacher of the Year for 2019-2020.
As a Trojan football standout during his glory days, Hilbert starting coaching football for the Carrollton Recreation Department. He also started teaching Sunday School to teens in his church. The combination of the two made him realize what kind of impact he could have on kids.
"I was doing what I loved, and it felt as if I was impacting the lives of young people around me," said Hilbert.
His seventh grade language arts teacher Erin McGinnis is the one who made him realize that education may truly be his calling, said Hilbert.
"She encouraged me and helped me get started," he said. "I knew at that moment that this was it. This was how I was going to walk out my purpose in life."
Hilbert is now a physical education teacher at CUES and also a coach. His transition from the business world to the classroom has been transformative for him, but he also believes for his students.
"The greatest contribution that I have made in education is inspiring kids who look like me, grew up like me, and who aspire to be great in everything they do," said Hilbert. To help with that mission, Hilbert established two mentoring groups to foster development in this area.
Building relationships with students is paramount for their success, says Hilbert.
"Once you establish a positive and safe relationship with kids, then the real magic starts to happen," he said. "I try to help kids understand that their environments do not determine their future, and that they have the power to make their own."
"Michael Hilbert is the perfect example of someone being 'called' to do what he is doing," said CUES Principal Stacy Lawler. "Coach Hilbert impacts kids daily. He is so selfless and giving of himself. He is all about building relationships with students, especially with students who need a role model in their life. The kids at the CUE know that Coach Hilbert loves them."
MARIA MENENDEZ
CJHS Teacher of the Year
With a surname like Menendez, it is no surprise to learn Maria Menendez, the Carrollton Junior High School band director, has Hispanic roots. But what doesn't fall into the stereotype is the fact she is actually a native Canadian.
Menendez's parents were both born in the capital of Mexico, but the family moved to Ontario, Canada, before she was born. In August of 2001, the family moved again – this time to Douglasville, Ga., – to start a new life there when she was just eight years old. In less than a month, following the September 11, 2001, attacks in New York, their status as guests in the United States was "viewed much differently," as she says in her own words.
Following came another blow to her young life when her parents divorced.
"I quickly understood that the life that I had grown up with was truly a gift and that at any second things could change," said Menendez, who was named Carrollton Junior High School's Teacher of the Year for 2019-2020. "This life change that was supposed to open up new doors for us instead became one of the most painful periods in my life."
Menendez said as a result, school became more than a place of learning, but a sanctuary.
"I had food, shelter, and love from adults that was missing from my life outside of school," she said. "Life outside of that building seemed so daunting and harsh, yet inside of that building I felt a sense of hope."
Menendez said she learned firsthand how important the positive influence of a teacher can have on the life of a child. She cites several teachers she credits for inspiring and loving her, including Carrollton High School Band Director Chris Carr, who was her band director when she was a student at South Paulding High School.
As a result, her teaching philosophy puts relationships above all else.
 "I feel strongly about creating a sense of family for my students and colleagues," Menendez said. "I'm also committed to demonstrate good character and leadership. I aim each day to set an example for my peers and students."
Though she is a music teacher, Menendez said she makes a point of connecting the lessons she teaches in the classroom to the real world.
"The real world connections are how I show my students that the lessons that we learn in the classroom have value beyond our classroom," she said.
Travis Thomaston, CJHS principal, has been watching Menendez at work for the past few years.
"I could see her potential when she first started at the Upper Elementary School years ago, and to land her on our team at CJHS has been a blessing," he said. "She quickly rose to the top and has cemented herself as a rock star with our students.  She works day in and day out to ensure that our students receive the best instruction in our band room and it definitely shows in their performances."
Front row, from left, are the school-level Teachers of the Year: Jennifer Day, CES; Maria Menendez, CJHS; Ashley Sutton, CHS; and Michael Hilbert, CUES. Standing behind them are community business partners who sponsored monetary gifts for all the teachers. From left are Scott Duncan of Carrollton Office Equipment, sponsor of the district award; Swede Sullivan of J. Smith Lanier Insurance, Will Ozier of Ozier Apparel and Matt Morris of Morris Auto Sales, sponsors of the school-level awards.