The annual STAR Student/Teacher awards recognition was the program for last month's membership breakfast held at the Carroll County Schools Performing Arts Center.
Responsibility for the statewide program was given to the Professional Association of Georgia Educators (PAGE)  Foundation in 1994 by the Georgia Chamber of Commerce which created the program in 1958.  For 61 years, our Chamber has co-hosted with PAGE, recognizing the top-performing high school seniors with the highest SAT scores, and the teacher each student chose as having the most influence in their academic development.
During the STAR ceremony, students from the Carroll County School System, Carrollton City School System, and Oak Mountain Academy were recognized. The honorees, their teachers and parents, and school administrators heard from Carroll County School Superintendent Scott Cowart, Carrollton City Schools Superintendent Dr. Mark Albertus, and Oak Mountain Academy Head of School, Patrick Yuran.
STAR honorees include: Bowdon High School students Sheyah Boyd and Gracie Folds and their teachers Carrie Gay and Kim Whitman; Central High School student Sam Conerly and his teacher Salita Parker; Mt. Zion High School student Graym Brown and his teacher Scott Jones; Temple High School student Emily Hummer and her teacher LaTeisha Drummond; and Villa Rica High School student Gavin Wilkinson and his teacher Sarah Triplett;  Carrollton High School student Eva Hobson and her teacher Dr. Laura Radar; and Oak Mountain Academy students  Christian Pollard and Alex Talley and their teachers Marvia Miranda and Andrew Carnes.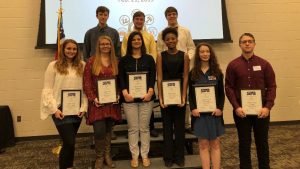 Eva Hobson and Emily Hummer along with their teachers will represent Carroll County and compete at the region level with hopes of advancing to the state competition this spring.