The Trojan cross country teams will lace up one last time with hopes of finishing their season stronger than ever at the state championship meet this weekend.
For the first time in half a decade, CHS swept the team titles in the 5-AAAAAA Region Championship meet in October. The boys team is now ranked first in 6A heading into the state contest and the girls could challenge for a top-five spot.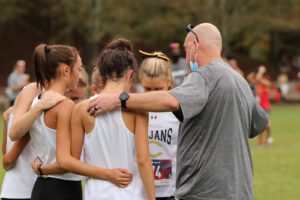 Coach Jimmy Sorrells huddles with some of the girls cross country runners and offers encouragement at the Region Championship a couple of weeks ago.
Senior Collin Jones has a chance to earn the state title this year. The University of Alabama commit is considered one of the best runners in the state. His place-time at the 5-AAAAAA championship was 15:30.
The girls team has incredible talent this year as well.
Mylah Land won the girls portion of the 5-AAAAAA championship with a time of 20:01. This is the junior runner's first season competing and she is already one of the state's top performers. Coach Sorrells recognized Mylah's potential and convinced her to try cross country and track, a move that helped boost the team's performance.
Coach Sorrells said he was excited to help reshape the cross country program when he started coaching at CHS last year.
"Many of the athletes on these boys and girls teams were a part of last year's teams. They have totally bought into the philosophy that we are instilling. Because of this, these athletes have improved tremendously, both physically and – more important – mentally. They have begun to take true ownership of their program," said Sorrells.
Coach Sorrells began his coaching career 23 years ago. His wife, Carrollton Junior High School teacher Dody Sorrells, said her husband's passion for running began through his own experiences with the sport.
"He has a competitive spirit that is led by his dedication to hard work," she said. "Jimmy takes great pride in his role as a coach and sees it as his mission to feed into the lives of young men and women."
Athletic director Paul Fitz-Simons said he is proud of the work Coach Sorrells has put into the cross country program this year.
"Coach Sorrells has done an amazing job this year. His teams have experienced much adversity during this pandemic and for them to maintain focus and desire was paramount," Fitz-Simons said. "I have been extremely impressed with how Coach Sorrells holds his athletes accountable and accepts no excuses. Even though we have already garnered two team region championships and two individual region championships, I think the best is yet to come."
But for Sorrells, coaching is much more than winning championships — he said it's about working with young athletes and helping them grow.
"I enjoy coaching because this is much more than coaching a sport. It is an opportunity to instill character into young people," he said. "They have opportunities to learn life skills, both good and bad. It isn't always pretty but that is what life is all about. How do we handle the tough times and the joyous moments?  To be part of that is very rewarding."
The Georgia High School Association State Cross Country Championship will be hosted by Carrollton High School Nov. 6-7. The boys run at 12 p.m. and the girls follow at 12:45 p.m. on Friday.