CARROLLTON, GA – With the final tally of the 2019 summer meals program now official, almost 30,000 free breakfast and lunch meals were provided to Carrollton area children and youth in May, June and July, surpassing last year's record total by 8,000 meals.
Laura Malmquist, director of School Nutrition for Carrollton City Schools, said meals distributed by school staff and Action Ministries, a long-time partner, provided a total of 29,527 meals, an increase of 7,970 over breakfasts and lunches distributed in summer 2018.
Malmquist said Carrollton City Schools has been participating in this program for years, which is an extension of the United States Department of Agriculture's National School Lunch and School Breakfast programs. Malmquist said the goal is to do as much as possible to increase participation so that more children are fed daily.
"This is always a great option for families during the summer months when their children are not in school to receive healthy meals during the week," she said.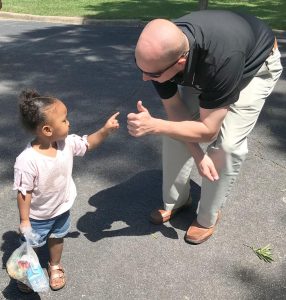 Carrollton High School Athletic Director shares a "thumbs up" with a young summer meals participant during one of the available days this past summer. A record number of meals were distributed at 10 sites throughout the city.
Meals were served at 10 sites throughout the community, including school campus sites where numerous camps and athletic groups use the meal program to feed participants. Action Ministries provided delivery of meals to other off-site locations.
"Administrators, counselors, and teachers throughout the system also volunteered to serve meals at various sites throughout the summer," said Malmquist. She also noted the school system Literacy Team provided hands-on literacy activities at summer meal sites throughout the summer.
Denise M. Etienne, the volunteer coordinator for Action Ministries, said she was ecstatic about the increase in meals.
"We could not have done this without the support of the community and the numerous corporations and volunteers," she said. "They made it happen."