Villa Rica Police Saturday night are investigating an alleged drive-by shooting outside the Hampton Court Apartments off  Highway 101.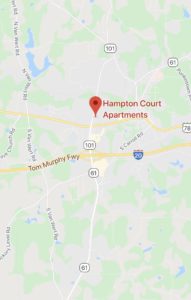 "A few males were outside the back of the apartments. An individual – unidentified at this time– fired shots in their direction," VRPD Captain Keith Shaddix told WLBB Radio. "Two individuals were struck. Their injuries—we believe are not life threatening at this time."
Shaddix says a third person was struck by a bullet.
"The third victim was actually inside an apartment," he said." He appears to be an unintended victim. He was grazed by a bullet. It's very fortunate… I understand he did refuse treatment at the scene so we believe he is okay."
"It is very early in the investigation," Shaddix concluded.
Witnesses have described a suspect as being a black male wearing a light colored hoodie. He did leave in a vehicle—but police are with-holding a description of the vehicle at this time.