Carrollton Police say a number of local jewelry stores were victims of a scammer this past weekend who made off with thousands of dollars worth of jewelry.
C.P.D. Detective Seth Denney says investigators have identified their suspect as 49-year old Charles Stephens. Stephens is known to have had addresses in Flowery Branch, Alpharetta and LaGrange.
Denney says Stephens entered Legacy Diamond Jewelry on South Park Street on Friday. He purchased jewelry using a check.
On Saturday, he returned to Carrollton, buying jewelry from Baxley Jewelers and Willis Jewelry. Both stores are on Adamson Square. He again used checks for his purchases.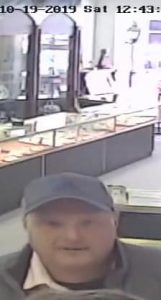 This image of the suspect was shared from surveillance cameras belonging to Willis Jewelry Company
Local banks close early on Saturday and are closed Sunday. On Monday, it takes some time to process any deposits which were made over the weekend or early Monday.
Perhaps knowing that, Stephens returned to two of the previously mentioned jewelry stores early this week. He made more expensive purchases this time. He again used a check.
It was not until later that store operators learned from their banks, that the checks were not legit.
During the investigation, Det. Denney learned that Bremen Police have a warrant for Stephens' arrest, dating back to January of this year. Stephens is accused of writing a bad check for $46,000 to purchase a car at a local auto dealer.
He now faces multiple counts of theft by deception in Carrollton, as well.