CARROLLTON, GA – A highly respected community leader in West Carrollton accepted an appointment to the Ward 1 post on the Carrollton Board of Education Thursday morning at the board's monthly work session.
Gil O'Neal took his oath of office prior to the start of the meeting, witnessed by family and friends who attended the ceremony in support. He succeeds long-time board member Greg Dothard who resigned last month in preparation for a move to the Atlanta area.
Like Dothard, O'Neal has deep roots in this area. The 1976 graduate of Carrollton High School was an accomplished Trojan track star and football player who was inducted into the Trojan Athletic Hall of Fame in 1991. He also attended West Georgia College and is now in management as a general foreman with U-TEC, a contractor serving the Southern Company.
O'Neal and his wife, the former Laretta Parks, have a blended family of two daughters and four sons, with five of the six also CHS graduates. The O'Neals have four grandchildren who attend Carrollton City Schools and a grandson who graduated last year. They are active members of Divine Connections International Ministries, a  church in Carrollton.
O'Neal said he is looking forward to his service on the board.
"I am honored to serve and pledge to do everything I can to help all children have the opportunity to invest in themselves to reach their full potential," he said. He then cited the familiar slogan especially popular during football season: "There's nothing like being a Trojan on a Friday night in Carrollton, Georgia."
"But I want to take it a step further," he said. "There is nothing like being a Trojan – for life."
"We welcome Mr. O'Neal with open arms and look forward to serving along his side," said David Godwin, board chair. "His positivity and enthusiasm for being a strong advocate for children will mesh well with our overall board culture."
Carrollton City Schools Supt. Dr. Mark Albertus, who administered O'Neal's oath of office Thursday morning, said O'Neal will be an additional asset to an already committed board.
"In searching for a replacement for Mr. Dothard, Mr. O'Neal's name came up several times from other leaders in West Carrollton specifically and the community at large," he said. "When I met Mr. O'Neal for the first time, I could feel a genuineness and compassion that quickly confirmed why this community loves him. He will serve us well."
written by: Julianne Foster, Carrollton City Schools, Director of Communications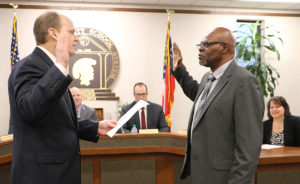 Newly appointed Ward 1 Carrollton Board of Education member Gil O'Neal, right, takes his oath of office for the first time. He was sworn in Thursday morning during the board's monthly work session. He will serve in this capacity until he will be required to seek election to the office in November 2021, when the next municipal general elections will be held in Carroll County. At left is Dr. Mark Albertus, superintendent, administering the oath.