(Haralson County, GA -PRESS RELEASE)
On November 14, 2019, Alecia Elizabeth Newsome was reported missing by her mother after she failed to return home for over 24 hours and her phone seemed to be turned off. The Sheriff's Office began its investigation into the missing person's case. During the investigation on Friday, we attempted to make contact with Don Cox, the friend who Alecia had gone to take to Walmart, he was not at work and we were unable to get anyone to come out of his house, which is behind a locked gate.
The Sheriff's Office continued to attempt to track Alecia's movements and received multiple tips that they had seen Alecia with Don. We were finally able to make contact with Don at his home on Saturday evening. Don stated that he had not seen Alecia since about an hour after they got back from Walmart Wednesday night and he didn't even know she was missing. While speaking to Don, the investigator asked him about a phone lying on the couch next to him and he stated that it belonged to Alecia. Don turned the phone over to the investigator but still stated that he had not seen Alecia since Wednesday. Don was advised that if he saw or spoke to Alecia, to call 911 and he stated that he would.
Later the night, the Sergeant on Patrol was searching back roads and went down Carnes road and observed what appeared to be the Chevy AVEO Alecia was driving in a yard. He pulled in to the edge of the yard and saw that it was the tag to the car Alecia had been driving. Upon making contact with the persons living at the home, he was told that Don and Alecia had it there. The car was towed from the house at that time.
On Sunday, another attempt was made to contact Don and a Patrol Sergeant did at one point talk to him and he stated he still had not seen Alecia.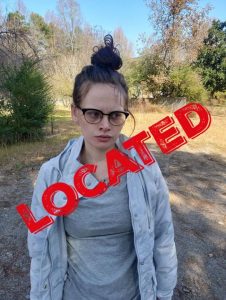 On Monday, November 18, 2019, a search warrant was obtained and executed at  the residence of Don Cox. At that time, we found Alecia Newsome inside the residence with Don Cox. Alecia stated that she needed help so she was transported to the hospital and sent for an evaluation. She will later face charges in this incident. Don Cox has been arrested for Obstruction in this incident.