CARROLLTON, GA – Math may be touted as the "universal language," but not everyone finds its translation crystal clear, creating a phobia of angst and fear to the point that some people end up carrying the anxiety for the rest of their lives.
While this fact is not new, the dilemma is particularly troubling now that many students are grappling with its understanding at home. Last spring, the coronavirus pandemic forced schools to close buildings and transition to virtual learning, placing the burden on students and parents who were accustomed to depending on the guidance of a teacher in the classroom to help them navigate toward competency.
Karen Wild, director of School Improvement for Carrollton City Schools, said the district recognized this challenge as at-home learning continued to the end of the school year. She also noted research backs this up. According to a recent article in the trade magazine Education Week, math anxiety has been linked to avoidance of the subject and worse math performance over time.  In a survey of teachers the magazine's research center conducted, 67 percent of teachers said that math anxiety was a challenge for their students.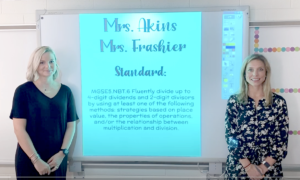 Carrollton fifth grade teachers Carly Frashier, left, and Allison Akins created a video to help their fifth grade students better understand the relationship between multiplication and division.
"As a response to the needs of students and families we learned from the spring at-home learning experience, we decided to be proactive in math instructional support," she said. "While in-person teaching is effective in making students successful, a teacher may have to give individual attention to students beyond the classroom group setting to ensure understanding is achieved. Without this extra support, emotions can create learning blocks that are difficult to overcome."
When it became clear the pandemic would continue into the new school year, Wild said Carrollton math teachers, in anticipation of continued at-home learning, got busy creating online videos their students could review as many times as needed to help them with understanding math concepts. Once the year started, 19 percent of students in the district did just that – decided to stay home, at least for the short term.
Wild said teachers in grades K-8 and all high school math courses have produced video support for math lessons that review the math content, skills, and practice sessions each week, plus two additional instructional support videos each week. The videos are organized to align with the curriculum pacing of the classroom and the at-home learning work.
"This optimizes use for all those connected to Carrollton City Schools," said Wild, who noted the videos are available on the district's website to be accessed as needed by at-home students, in-person learners, and even parents who may need additional support.
Wild said that while teachers have tapped into videos provided by highly acclaimed providers, they are also recording videos themselves.
"This is a great way to bring the school into the home, develop relationships, and keep students connected with 'real' Carrollton City Schools teachers," she said.
Wild said the beauty of the math video project is that not only does it serve at-home learners in the district, it has developed into a supplemental resource for all students.
"There aren't many silver linings associated with the pandemic, but in this case, it forced us to address an immediate need that will become an additional standard in our approach to teaching math that will benefit all students into the foreseeable future," she said.