CARROLLTON, GA –  A Carrollton High School teacher who holds the title as the school's winningest head coach has added the accolade of an endorsement by a prestigious Ivy League school to his extensive resumé of awards and honors.
Long-time debate coach Richard Bracknell is the recipient of the 2020 Yale Educator Award, an honor bestowed on teachers and counselors who were instrumental in the success of incoming Yale freshmen, including Carrollton Class of 2020 graduate Edward Bohannon.
The award recognizes educators from around the world who inspire and support their students to perform at high levels and to achieve excellence. Students entering the Yale Class of 2024 were asked to nominate outstanding high school educators who have deeply impacted their lives. Edward, an exceptional student as well as an exceptional state-champion debater, nominated Bracknell.
Bracknell is one of 81 teachers and counselors selected for the honor, representing the top 25% of a nomination pool of 317. This year's nominees represent 41 states and 19 countries, according to a Yale press release.
"Mr. Bracknell's craft of sharpening young minds has produced CHS debate alumni who have gone on to become significant movers and shakers in our world today," said David Brooks, CHS principal. "He embraces the intellectual stimulation of debate and over the years, has learned how to challenge his charges, including Edward, to reach their utmost potential. He is truly a mentor in the greatest sense of the word."
Brooks said Bracknell's ability churning out state championship teams doesn't happen by accident.
"Mr. Bracknell is strategic about choosing select competitions that will best prepare his debaters for the ultimate stage," he said. "In 2018, when the team captured its 10th state title, Mr. Bracknell took his debaters to prestigious tournaments at Harvard and Columbia universities, traveled to south Florida, and even competed across the country in San Jose, Calif."
The debate coach also holds another distinction – the CHS faculty member who has been selected STAR Teacher through the STAR Student recognition program a record 13 times, another testament to the high regard his debaters place upon him.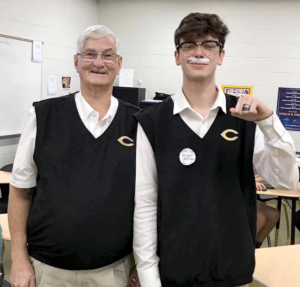 In October 2019, Edward Bohannon honored Richard Bracknell by role playing  a "past" version of the debate coach during "Past and Present" dress-up day for Carrollton High School Homecoming Week. Edward even included his state championship debate ring and a nod to the coach's service on the Temple City Council.