CARROLLTON—Carrollton local attorney, elected Carrollton City Councilmember and lifelong local Met Lane announced today that he will run for State Court Judge.
After serving almost 25 years as Carroll County's State Court Judge, the Honorable Robert Sullivan will not seek re-election.  The election for his successor will be held May 19, 2020.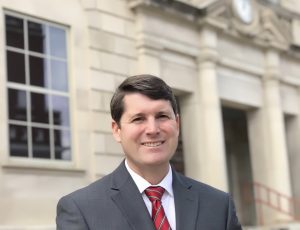 "Carroll County has been so blessed by the service and steady hand of Judge Sullivan.  He is fair, firm and applies the law to the facts.  Like Judge Sullivan, I seek the position of State Court Judge because our citizens deserve to continue to have their cases brought before a judge who will treat everyone with dignity, respect and strictly apply the law to each case."
Lane went on to say that he will not create laws from the bench.  He added, "I agree with the United States Supreme Court Chief Justice when he said that judges should be like umpires in baseball.  They are there to call balls and strikes; not to assist one side or the other."
"I am a firm believer in Governor's Kemp's criminal justice reforms.  I pledge to continue the common-sense approach of treating dangerous criminals in our community appropriately while fully supporting our drug, mental health, and veterans' courts.  Additionally, I will work to establish a DUI Court which is a sentencing alternative for persons convicted multiple times for driving while under the influence of alcohol and/or drugs. What this means is for those who qualify, the program will offer intensive outpatient treatment.  This will make our roads safer and protect our citizens. The people of Carroll County deserve to be safe when driving."
Lane said, "Since February I have talked to our citizens to see what they thought about my running for State Court Judge.  The response around the county has been overwhelmingly positive, gratifying and humbling.   I feel called to serve the public and I am very excited about it."
"I have extensive experience as a plaintiff's lawyer and a civil defense attorney.  Serving as former Assistant District Attorney and a criminal defense attorney has provided me with the exceptional experience of both prosecuting defendants charged with crimes while protecting the Constitutional rights of our law-abiding citizens.  Thus, my 18 years of experience uniquely qualifies me to serve as your State Court Judge."
Lane was born and raised in Carroll County.  A 1991 Carrollton High School graduate, Lane received his bachelor's degree from Furman University in Greenville, SC. A scholarship recipient Lane received his law degree from the University of South Carolina.  Lane was an Assistant District Attorney for the Coweta Judicial Circuit.  He has served on the Carrollton City Council from 2016-2019.  Lane has practiced law for over 18 years and is presently a law partner with Shadrix, Lane & Parmer, P.C. located in Carrollton.  Lane and his wife, Corbett, have been married for 17 years.  They have three children ages 11, 8, and 6.  He is a past member of Rotary Club.  The Lanes are members of Carrollton First United Methodist Church where he has taught Sunday school for over ten years.