CARROLLTON, GA – Carrollton High School senior student-athletes Natalie Davis and Collin Jones have been presented the school-level High School Heisman award with Collin also earning state accolades for his accomplishments. The honor is given annually to a male and female high school scholar-athlete-citizen.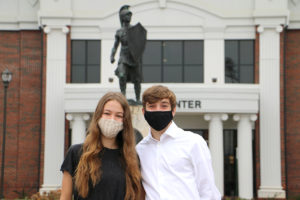 As a state winner, Collin also will receive a $750 scholarship through the Heisman High School Scholarship program presented by Acceptance Insurance. The program was created in 1994 through a partnership between Wendy's restaurants and The Heisman Trophy Trust. From its inception, the program has leveraged the reputation of the Heisman Memorial Trophy as a symbol of great ability combined with diligence, perseverance, and hard work.
In addition to being outstanding students, both are two-sport athletes – Collin, a cross country and track star, and Natalie, soccer and volleyball.
Over the past 26 years, the Heisman program has honored more than 600,000 of the nation's most esteemed high school seniors and provided hundreds of thousands of dollars in college scholarships to students and more than a million dollars to high school academic and athletic programs across the country.