CARROLLTON, GA –  For the 10th straight year, the homecoming celebration at Carrollton High School will not only make memories for current students and create nostalgic reflection among former ones, but will once again provide much-needed resources to help the needy in our community.
Born a decade ago as a spin on traditional homecoming festivities, the "Gold and Black Give Back" campaign partners each CHS class with grades in the three lower schools to collect specific donation items for charities. For the homecoming parade, this year the high school classes will produce creative floats that represent their donation collections. The class with the most donations in terms of dollar value wins the competition and bragging rights until the next year.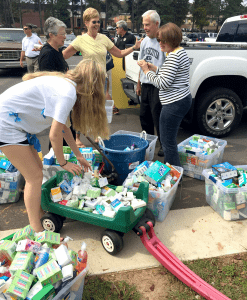 Tubs of body soap collected at a previous drive get ready for delivery to local charities.
"One of our focuses as a district is to build character capacity among our students," said Dr. Mark Albertus, superintendent of Carrollton City Schools. "This campaign is a great way to encourage servant leadership, starting with our tiniest Trojans."
Now 10 years into the donation outreach, local charities have come to depend on the support, said Kim Jones, president of the Community Foundation of West Georgia. The donations from the drive typically supply the charities with hygiene items that carry them from October through July.
"I'd like to say a big thank you to all of you participating in this year's homecoming event," Jones shared with CHS students in a promotional video about the homecoming drive. "I cannot tell you how much your donations are really going to help our community."
Catherine Gordon of St. Margaret's Community Outreach and Sue McGukin of Open Hands United Christian Ministry also spoke to the students about how the student donations are going to help their respective organizations. Gordon noted the donations to St. Margaret's are going to restock its personal hygiene pantry while McGukin, an alumna of CHS, praised the students for their generosity.
"As a Carrollton alum I am so excited of what you are doing and that you are giving back to our community while you're still having fun and celebrating this time in your life," said McGukin. "Thank you so much for what you are going to do for us."
The freshmen class is partnering with seventh and eighth grades and are asked to collect shampoo and conditioner. Sophomores are partnering with fifth and sixth grades for dish and body soap. The CHS juniors, prekindergarten, third, and fourth grades are collecting toilet paper. The senior class is partnering with kindergarten, first and second grade to college toothbrushes and toothpaste.
Members of the community also can participate in the drive while enjoying the homecoming week kick-off celebration this Sunday, Sept. 29, at a community pep rally in Grisham Stadium. The free event will introduce this year's homecoming theme, "Trojan Wars," and begins at 5:30 p.m. with food, fun, activities and games taking place until 8:00. Community attendees are encouraged to bring requested donation items to the pep rally to add to the student collections.
David Brooks, principal of Carrollton High School, said promoting homecoming beyond the parade and game is a way to celebrate community pride and tradition.
"It is amazing how much Carrollton High School has changed over the past 130 years, but at the same time, how much has stayed the same," said Brooks. "That's what is unique about homecoming traditions. Its cross-generational appeal is timeless."
Brooks also noted the school system's footprint is conducive to generating homecoming excitement at all grade levels, especially when it is time for the parade, which this year will be held on homecoming afternoon, Friday, Oct. 4, at 1 p.m.
"We are fortunate to have all of our schools on one contiguous campus, so homecoming is truly a districtwide experience, especially for the parade," he said. "Ben Scott Boulevard will be lined on both sides of the road by thousands of students, teachers, community members and fans wearing black and gold spirit wear, making noise and celebrating the day," he said. "The atmosphere will be electric."
Serving as grand marshal this year is Dr. Jimmy Pope, Board of Education chairman, who is retiring at the end of the year following 37 years on the board, ending his tenure as the longest-serving BOE member in the district's history.
The game will follow that night in Grisham Stadium when the Trojans take on the Cass Colonels in a region contest at 7:30 p.m. During halftime, the homecoming court will be revealed and the queen crowned.
Two significant class reunions will also be held that night – the Class of 1969 will celebrate its milestone 50th and the Class of 1979 will observe 40 years of alumni status.
To learn more about homecoming festivities, visit the dedicated webpage: https://chs.carrolltoncityschools.net/student-activities/homecoming where anyone interested can learn more about Gold and Black Give Back campaign, the homecoming court, dress-up days, pep rally, parade and other homecoming news.