The Haralson County Sheriff's Office has an issued a warrant for the arrest of a man they believe shot another man Friday afternoon
According to HCSO Lieutenant Donnie Mapp: Mid-day Friday, deputies responded to a call of a crashed vehicle with injuries off Morgan Road, just west of Corinth-Poseyville Road. They soon learned the cause of the crash was the driver had been shot.
Investigators believe that as the victim's vehicle had come off Corinth-Poseyville Road, a white older model Jeep was parked in the street and a white male was standing next to it. The driver of the vehicle attempted to go around the man in the road. As he did, the man in the road fired at least one shot into the vehicle, striking the victim.
The bullet penetrated the driver's seat and entered near the victim's spine. The vehicle left the roadway and crashed into a tree.
The shooting victim has been identified as 30-year old Christopher Hetling of Temple. He is in critical condition being treated in an Atlanta area hospital.
Investigators have identified the alleged offender as 26-year old Christian Taylor Davis of Temple. He remains at-large as of Monday morning.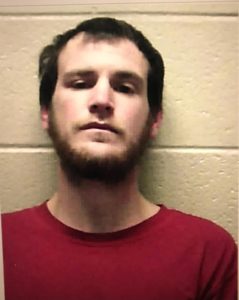 Christian Taylor Davis of Temple.
Anyone knowing the whereabouts of Davis should call 911 or the Haralson County Sheriff's Office.
The ongoing investigation has resulted in numerous other arrests un-related to this specific incident, including for outstanding warrants and drugs.