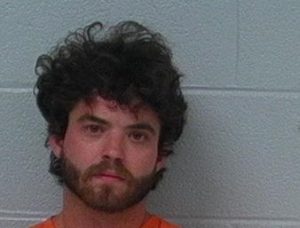 A 23-year old Villa Rica man faces several serious charges after investigators say he caused a wreck Tuesday that resulted in the death of the 25-year old female passenger in his car.
According to the Georgia State Patrol, at approximately 3:28 PM, a black 2001 Saturn SC2 was traveling east on GA 101 outside of Villa Rica city limits. The driver failed to maintain his lane traveling partially off the roadway. As the driver attempted to travel back onto the roadway, he lost control. The vehicle traveled out of control off the roadway and overturned. The female passenger in the vehicle was partially ejected out of the sunroof and she died as a result of the injuries she sustained. The driver fled the scene on foot.
The man was eventually apprehended by police.
The female victim has been identified as 25-year old Amanda Blackwell.
The driver, Luke Wilson Furr of Villa Rica, is in the Carroll County Jail. He is charged with homicide by vehicle in 1st degree – felony, DUI – driving under the influence of alcohol, reckless driving, hit and run; duty of driver to stop at or return to scene of accident, failure to report accident w/injury/damage, possession of open alcohol container, weaving over roadway, obstructing or hindering law enforcement officers, and distracted driving – general distractions.
The GSP report is incomplete. The investigation contnues.