WACO, GA – The Georgia DOT is holding a public information open house on Thursday, January 23, at the Greater Haralson Chamber of Commerce from 5 p.m. until 7 p.m. to discuss proposed plans to construct two roundabouts at the I-20 interchange with Waco Road.
The roundabouts would address traffic safety and efficiency concerns in the area that were raised following a recent study of the intersections. Roundabouts have been found to make intersections safer and keep traffic flowing.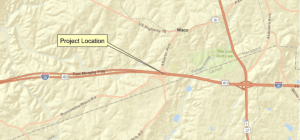 The project is expected to cost about $3.7 million, and construction is slated to begin in late 2021 and be completed in 2023.
"These roundabouts will be a great improvement to the I-20 interchange," said GDOT District Six Engineer Grant Waldrop. "This project will make the interchange safer and reduce traffic delay when exiting the Interstate."
The public information open house gives residents a chance to look at the proposed plans, ask questions, and leave comments for DOT. Residents can also provide comments online until February 6, 2020, at http://www.dot.ga.gov/AboutGDOT/PublicOutreach.
"The feedback really helps in our planning," Waldrop said. "We look forward to hearing from the residents of Haralson County."