The Georgia Department of Transportation is planning a project they hope will improve the safety at one of Carrollton city's busiest intersections and one of the sites most prone-to-accidents in 2019.
G-DOT had previously installed a series of yellow flashing arrows to the lighting system at the intersection of Northside Drive, the 166 bypass, Highway 166 and Bankhead Highway, but the arrows' instruction seems to have confused a number of drivers. Some taking a left turn consider the yellow arrow to be a warning that the light is about to turn red, rather than the yield it was meant to suggest. So, drivers race through their left turn to beat a red light, and at times enter the path of oncoming traffic which is responding to a solid green-light giving them right of way.
GDOT District Communications Officer Joe Schulman told WLBB Radio last Friday that the GDOT traffic operations team has a project in the works that will add a second left turn lane to southbound Northside Drive and a left-on-green-arrow-only signal operation to address safety concerns.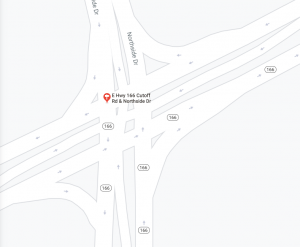 Carrollton Police Department Traffic Sergeant Chris Wright says within that intersection, Carrollton Police responded to 56 accidents in 2019. That number does not even include the number of accidents that occurred 50 feet away from the center. Outside of that area, the statistics are documented and mixed in with others detailed to that specific road.
At least one crash at the intersection resulted in a fatality in 2019.
Wright says at that intersection in particular, the most accidents did deal with drivers coming from the Northside Drive portion. He believes that G-DOT's planned adjustment should improve the safety and decrease the number of accidents at that location.
"I believe that it will because it gives people a very sure action to take while they are trying to take that left-hand turn," he said. "They won't have to decide whether it is appropriate for them go or not because the traffic signal eliminates that doubt from their mind."
Elsewhere in that intersection, Wright says traffic coming from the bypass causes a considerable amount of accidents and near-accidents as well.
"Traffic on the bypass has a 55mph speed limit. Very frequently we run speed on that side of the intersection and get people traveling at 70 to 75 miles per hour," he said. "So, if those people are carrying that speed through the intersection while someone is trying to make a left-hand turn, that doesn't give very much time for the person coming from the bypass or the person that's making that left-hand turn to actually react once they begin crossing the intersection."
G-DOT says the initial intersection project will include the southbound left turn lane only, but G-DOT is actively monitoring the other left turn movements, and they will address them if needed.
G-DOT says they hope to begin construction in the next two months.