CARROLLTON, GA – Five Carrollton High School students were recognized for their work this week when the Carrollton Creative Writers Guild announced the winners of its 2021 High School Creative Writing Awards.
Senior Willow Huett, who has been honored several times in recent years for her writing talents, was presented the guild's Special Recognition Award for her poem, "The Visit." Willow was a region winner last year in the Young Georgia Authors competition and as an eighth grader, she earned a second-place finish at state in the same contest.
Other CHS award winners announced Tuesday at the event, held in the Carrollton Center for the Arts, were Emma Hollenbeck, who won first place in poetry for "Mrs. Virginia Poe," Tony Fulbright who placed second for "Medals," and Steven Slappey, third, for "Adam's Wife." All are seniors. Belle Esslinger, a sophomore, placed second in the short story category with "Innocence in Doubt."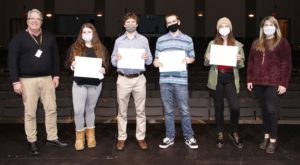 Five CHS students were honored at the 2021 Carrollton Creative Writers Guild Tuesday. From left are David Bryson, CHS ELA teacher; Belle Esslinger, sophomore; Steven Slappey, Tony Fulbight and Willow Huett, seniors; and Masha Hook, CHS ELA teacher. Not pictured is Emma Hollenbeck, senior.