Carrollton mayor and city council on Monday paid tribute to three Carrollton fire fighters who in November of last year, were credited with saving the life of a three-year old.
Reading the proclamation, Carrollton Mayor Betty Cason stated:
"On November 22, 2019 Fire Engine #24 responded to a 3-year old who was choking. Upon arrival they were met by a frantic mother running towards them carrying her unresponsive 3-year old little girl. She was unconscious. She was not breathing and her skin had begun to turn purple. The mother handed her little girl over to the fire fighters for emergency medical care and the firefighters immediately began maneuvers to clear her airway. The emergency measures were successful. The child regained consciousness and began to breathe on her own. The child was within seconds of death and without the intervention of these firefighters the child would not have survived."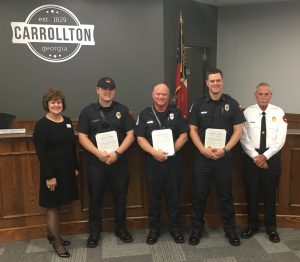 Carrollton firefighters Jimmy Appleby, Jared McKenzie and Chad Thigpen were each present for the reading of the proclamation Monday and were honored by the city with the Hero Award for their efforts.
"I cannot say enough about our first-responders," Cason said. "I think we have the best departments in the state of Georgia and I'll put our guys up against anybody."