CARROLLTON, GA – Five Carrollton Junior High School eighth graders were presented a life-changing opportunity on Wednesday when they committed, bolstered by the support of  their families, mentors and members of the community, to participate in the REACH Georgia Scholars program.
This is the fifth year Carrollton City Schools has participated in the statewide initiative that was established by former Georgia Gov. Nathan Deal, with the support of partner businesses, in 2012. Following a rigorous application process that begins in the seventh grade, five students who applied were selected for REACH, which stands for  Realizing Educational Achievement Can Happen.
"The mission of the REACH program is to increase academic persistence and achievement of Georgia's academically promising middle and high school students and to increase college access and success," said Dr. Mark Albertus, superintendent of Carrollton City Schools. "We are proud of these students and are looking forward to them taking advantage of this tremendous opportunity."
Carrollton Junior High School Principal Travis Thomaston, in preparing to introduce the 2019-2020 cohort during the official signing ceremony Oct. 23, noted he had the unique experience of having worked at Carrollton Elementary and Carrollton Middle School as assistant principal prior to serving as principal of CJHS and knows the students in this group well.
"I've followed these students for years, and it is very exciting to see how they have grown," he said. "For some of them, the early years of education were not always easy. Yet, the individuals who are standing here today are reflective of the commitment to excellence in which our district firmly believes."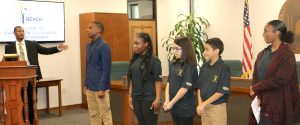 Carrollton Junior High School Principal Travis Thomaston introduces the 2019-2020 cohort of REACH Scholars to the audience. From left are Jace Black, A'Jaiah Ward, Sophia Morales, Nour Nazim and Maya Matthews.
They join the last four cohorts, now freshmen, sophomores,  juniors and seniors, at Carrollton High School. These students are Jada Ackey, Two-Co Black-Bey, S'Nyah Florence, Dacious Wright, seniors; Damean Dominguez, Escarlett Hernandez, Contellis Reese, Jada Scarborough, and Shania Scarbrough, juniors; Marneja Daniel, TaMaya Glenn, Zantavious Graham, Latasha Griffin, and TaniaTurcios-Navarrete, sophomores; and Cynthia Gomez-Cruz, Dontavius Phillips, Ryshan Powell, Allison Steele, and Zikera Watson, freshmen.
Another important component of the REACH program is mentorship. Each of the REACH scholars has an assigned mentor who will follow him or her throughout high school and beyond. Academic coaches at CJHS and CHS also will closely follow the students.
Once they graduate high school, scholars each will receive a $10,000 scholarship to a HOPE-eligible school in addition to other scholarships and financial aid they may earn.
Jason Sidel, CJHS counselor who administers the selection process,  said it was difficult to narrow down the selection to the five students chosen.
"With so many students wanting to pursue post-secondary education, our selection committee had the difficult task of selecting just five scholars," he said. "However, we are
proud of the individuals receiving the scholarship today." Sidel then asked the students, their parents, and the community as a whole, to pledge to support the cohort over the next several years to ensure college success.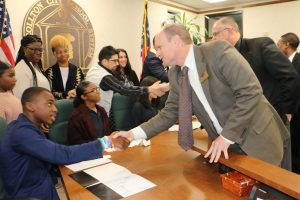 Carrollton City Schools Supt. Dr. Mark Albertus congratulates Jace Black on earning REACH Scholar status following the signing ceremony.