The Red Cross is assisting a Haralson County family of four who lost most of their possessions in a Friday afternoon fire.
Haralson County Fire Chief Brian Walker told WLBB Radio that 911 received a call relating to a residential fire at the Ashley Mobile Home Park near Tallapoosa, just after 12-noon Friday.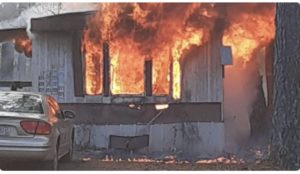 Walker said the first fire unit arrived to find approximately one-fourth of the single wide mobile home engulfed in flames. The two occupants inside had escaped and were outside the residence.
A young man and his child told investigators they had fled the home after they say they were awakened by a 'popping' sound.
An Amazon delivery driver who was nearby told investigators that he too heard a 'popping' sound around the time of the fire.
Investigators at this time do not suspect foul play as the cause of the fire. The initial investigation suggests that an item -possibly electronic– inside the home may have malfunctioned.
The family's mother and young daughter were away from the home at the time of the fire.
Anyone interested in offering additional assistance, clothing or food to the displaced family should contact the Red Cross.