CARROLLTON, GA – Carrollton Board of Education member Greg Dothard earlier this month announced his intentions to leave his post in preparation for a move to the Atlanta area.
"Mr. Dothard gave me a heads up of his plans prior to our February board meeting," said Dr. Mark Albertus, superintendent. "He has been commuting to his job at Georgia Power in Atlanta for many years and now that his children are grown and live closer to Atlanta, he felt it was time to join them."
Dothard, the senior member of the board, was appointed to fill the unexpired term of the late Joshua Mabry in December 2008. A 1993 graduate of Carrollton High School, his Trojan roots run deep. Dothard was a star athlete for the Trojans and played football at the next level on scholarship. He was inducted into the Trojan Athletic Hall of Fame in 1999, joining his mother Barbara Dothard, Class of 1971, who was inducted in 1996. Dothard's three children are also CHS alumni.
"Greg Dothard brought a contemplative calmness to the board and approached decision-making with thoughtful consideration," said David Godwin, board chair. "He helped us look deeper into our decisions and was a quiet advocate for all children. His leadership will be missed."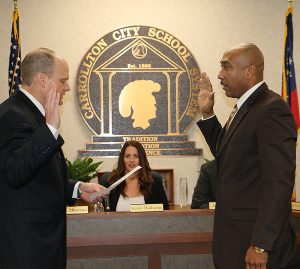 Greg Dothard, first appointed in 2008, began serving his fourth consecutive term on the board in January when he took his oath of office, administered here by Dr. Mark Albertus, superintendent. He resigned from the board to prepare for a move to the Atlanta area.
In his 12-year tenure as a school board member, Dothard witnessed and helped manage incredible growth in the school system and initiated facility upgrades at all schools on campus, including completion of the Carrollton High School replacement project. Dothard was also instrumental in guiding the school system through the recession during the late 2000s and early 2010s, maintaining a full 180-day school calendar, keeping all teachers employed during this time, and protecting the district's commitment to academic rigor and the arts – feats many school systems could not fully accomplish. In board leadership, Dothard had served as vice chairman and treasurer over the years.
With Dothard's resignation final, Godwin said the board at its March 5 work session plans to appoint another Carrollton alum, Gil O'Neal, to the Ward 1 seat. O'Neal, a 1976 graduate, is in management as a general foreman with U-TEC, a contractor serving the Southern Company. He and his wife, the former Laretta Parks, have a blended family of two daughters and four sons, with five of the six also CHS graduates. The O'Neals have four grandchildren who attend Carrollton City Schools and a grandson who graduated last year. They are active members of Divine Connections International Ministries, a  church in Carrollton.
"Mr. O'Neal is highly respected in the community," said Godwin. "His  level of influence will make him a strong representative for Ward 1."