CARROLLTON, GA – A recent donation by the Carroll Symphony Orchestra is music to the ears of impressionable 4-year-olds at Carrollton Elementary School. Seven piano keyboard donations – one for each prekindergarten classroom – allows music enrichment now to be an accessible resource every day.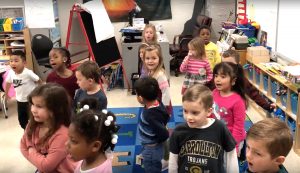 These students danced and sang to "Twinkle, Twinkle Little Star," while CSO Conductor Terry Lowry played on the keyboard.
For years, CSO has been a volunteering partner of the prekindergarten program, providing music enrichment activities. Terry Lowry, CSO conductor and music director, visits the school weekly to expose Pre-K students a variety of musical styles and teaches the students simple melodies to encourage direct engagement.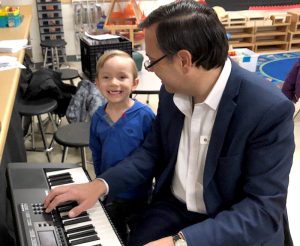 Carroll Symphony Orchestra Conductor Terry Lowry plays on one of the donated keyboards as a student watches.
"As much as I love to present concerts, the real work of the CSO happens each day as we help children find the song that is within them," Lowry said in a blog post. "This work goes by largely unnoticed by the public. I suppose it is not as glamorous as presenting an Independence Day concert for 8,000 people, or playing to sold-out audiences at the Townsend Center. But to help a child learn to use music to make sense of his or her world is our true calling. I firmly believe that just as every child should learn to read and to write, every child should learn to listen and to sing."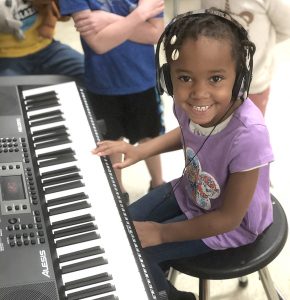 This little girl is all smiles when it is her time to play the keyboard.
To support the CSO efforts, Bain Dental Group is the corporate sponsor of the CSO outreach. Joe Driver, a long-time Pre-K teacher and musician himself, couldn't be more pleased with the partnership.
"Their donations bring musical joy and education to our Tiniest Trojans that will impact them for years to come," he said.