CARROLLTON, GA – Read Across America Day and the celebration of Dr. Seuss' birthday were handled a little differently this year at Carrollton Elementary School in response to pandemic protocols, but the Carrollton Kiwanis Club members came up with a creative solution to continue their annual visits as school readers – even though they weren't physically present.
On March 2, Randy Miller, past club president and chair of the Kiwanis Club's foundation, stopped by the school to donate Dr. Seuss books as is tradition. But this year's book, "The Big Orange Book of Beginner Books," contained a QR code that could be scanned to access videos of Kiwanians reading popular Seuss stories.
Miller said despite challenges of the past year, the club was able to double its book order for area elementary schools, donating 45 to each school.
"We are hopeful the worthy students selected will be able to enjoy their own personalized book for their reading pleasure as well as sharing with their siblings and friends," said Miller.
Miller said each year the books are donated in memory of one of their club members. This year's honoree was Bill Dees, who passed away in August 2020. Above the dedication acknowledgment on the inside cover of the book, a QR code takes readers to a dedicated website featuring several club members reading the Dr. Seuss classics.
"CES was thrilled to receive books donated by the Kiwanis Club! Even during an unprecedented year, the Kiwanis Club found a way to show love to our students," said CES Principal Kylie Carroll.  "They also innovatively included QR codes to provide read-alouds in the text. Their generosity is a ray of sunshine and fosters our love of all things literacy."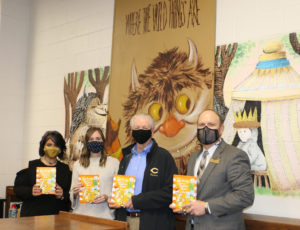 The Carrollton Kiwanis Club donated copies of "The Big Orange Book of Beginner Books," that  were distributed earlier this week to 45 deserving students. From left are Kylie Carroll, CES principal, Kristie Poor, media specialist; Randy Miller, Kiwanis Club past president; and Dr. Mark Albertus, Carrollton City Schools superintendent and fellow Kiwanian.