Dr. Micheal Crafton believes in the transformative power of education. He should; he's seen it firsthand.
The son of an auto and diesel mechanic, a teenaged Crafton assumed he would follow in his father's footsteps, studying auto mechanics in his vocational high school. However, a few key teachers nudged him in the direction of pursuing a college degree, and he hasn't looked back.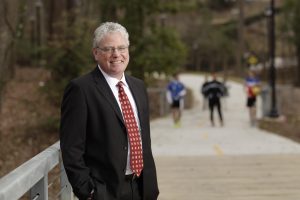 Now, Crafton has taken the reins of the University of West Georgia as interim president, after former UWG President Dr. Kyle Marrero stepped down to become president of Georgia Southern University.
"To say I'm honored to serve as interim president of this institution I've called home for many years is a vast understatement," Crafton said. "I am proud of all the work that's been done at this university since I first came to campus in 1982. During his tenure as president, Dr. Marrero and our highly skilled faculty and staff have pushed forward many new initiatives, programs and changes of all sorts. There's a sense of momentum that's been set in motion and that would be very hard to stop."
The veteran English professor – who's spent more than three decades teaching more than a dozen courses at UWG – most recently served as the university's provost and vice president of academic affairs. His vision for his interim presidency is to continue UWG's momentum "with as little disruption as possible."
As provost, Crafton worked with a variety of faculty and administrators locally and across the state and nation to promote the American Association of Colleges and Universities initiative LEAP (Liberal Education and America's Promise), a significant academic quality assurance program. In addition, he's overseen Engage West! Faculty Edition, an evidence-based leadership development program under UWG's larger culture transformation project that is known as Engage West.
Crafton also hopes to continue UWG's upward trend of achievement in online educational and graduate programming, as well as continuing the powerful work in progress with the Carrollton-Carroll County Education Collaborative, aligning the strengths of UWG, West Georgia Technical College, Carrollton City Schools, Carroll County Schools and community partners to ensure all students graduate high school with a plan to enlist in the military, become employed or enroll in college.
"I'm very fortunate to have this opportunity, and I look forward to continuing the good work UWG is doing in all aspects of its operation," Crafton said. "With the support of our amazing faculty and staff – and the daily inspiration I receive from our students – I believe I can be up to the task."
Crafton was born on the Fort Stewart Army base in Hinesville, Georgia, in 1954. The unconventional spelling of his first name was his mother's idea. She wanted her son to always stand out from the crowd and "be different," Crafton said.
Being the son of an Air Force airman, Crafton's early life was "nomadic but normal," he said. His father spent several years earning the family's grocery money by repairing vehicles, eventually teaching the trade of diesel mechanics at a trade school in Nashville, where Crafton spent his formative years.
"My childhood was a normal one, but also one that was unlikely to result in a college education," Crafton said. "We were definitely in the lower working class, but I can look back on that time in my life with pride and gratefulness that a few teachers in my schooling saw the potential for me to do more with my career than I had originally planned."
During high school, Crafton worked at restaurants cooking, serving and bussing tables to help his family financially.
In 1974, a year before the Vietnam War ended, Crafton enlisted in the U.S. Navy and was stationed in Okinawa, Japan, as a member of the U.S. Naval Construction Battalions, better known as the Seabees. He was deployed for two years and was trained as a member of the Navy's special forces in both military construction and combat.
Following his deployment in Japan, Crafton leveraged the G.I. Bill to attend the University of Tennessee – Nashville, six blocks away from his high school. The branch campus offered what Crafton called "a total commuter experience," with all of his classes offered on weekends or after 5:30 p.m. on weekdays.
Crafton would work construction during the day, installing plate glass windows and doors in storefronts, before transitioning to his institution of higher learning. He switched majors at least four times, finally settling on English because he, in his words, "I couldn't leave it alone. It was simply the most enjoyable and most demanding of all the courses I took."
"I liked learning a lot of things, from engineering to law, but English was simply the most enjoyable and demanding of all the courses I took," Crafton said. "I am grateful to have found what works for me and what gives me a special joy. In the words of Joseph Campbell, I just followed my bliss."
Crafton followed his bliss right into graduate school, graduating with his master's degree in English from the University of Tennessee in 1980. Two years later, he was offered the opportunity to teach for a year at a college in a small town about an hour outside Atlanta, and seeing as he had a former classmate on that campus, he jumped at the chance.
"By 1982, I had finished all the formal training for my doctorate at the University of Tennessee, and I was starting my dissertation," Crafton said. "It made sense for me to take a break, teach for a year at what was then West Georgia College, and then go back. I just never went back."
Since the early 1980s, Crafton has been a West Georgia Wolf for all but six years – five of which he spent as provost at Clayton State University in Atlanta.
"It was just what I loved to do," Crafton said. "I was a shy person, but when I walked in to teach my first freshman English composition class and stood in front of a room full of petrified 18-year-olds, I came alive. It was just a perfect fit, and there's no way to predict that."
Crafton said he's committed his life's work to higher education because "it has to be one of the top, most positively transformative enterprises in American society."
"I was a very poor kid in Nashville, and I've come a long way from that point," Crafton said. "It's all thanks to the education I've received from public institutions. There's no other way that would be possible. Having worked through high school and college, I sympathize with people who wake up every morning and commit to making a change. It's hard work, and I'm proud to be working for them."
By Colton Campbell/ UWG