CARROLLTON, GA — Students involved in the Computer Science Pathway at Carrollton High School have had a productive school year thus far.
More than half of the students in the program have published new works into the Global Marketplace and that number is continuing to grow.
Collectively, the program has published five iOS apps, three Android apps, 14 SnapChat filters and more than 20 Roblox games.
Robby Blakemore, CHS computer science instructor, said the year has been full of amazing projects for the program. One of his favorites to date was an app students made to help individuals find their way around the Carrollton City Schools campus.
"I loved the Trojan Map app for iOS," said Blakemore. "This app is a favorite of mine because it took a large team of students to develop it. The idea was pretty straightforward. A student thought it would be cool to have an app that helps people learn their way around our large campus. To implement it, we needed teams of students to collect GPS coordinates around the campus as well as a group of students that charted and diagrammed points of interest. Once we had the data, the students programmed each point into geometric shapes representing the classroom and various amenities. This task resulted in 40,000 lines of code, which easily exceeds any previous project."
According to the Bureau of Labor Statistics, jobs for computer and information technology occupations will grow significantly — a 13 percent increase — from 2020-2030.
Blakemore said he would encourage students interested in a career in computer science to continue refining their ability to learn.
"Technology will continue to change and chances are that what you learn today won't be relevant tomorrow," he said. "However, understanding how to be a good learner is a skill that will never go away."
Additionally, he noted that students who are not interested in computer science as a career should also learn what they can on the subject.
"Soon every industry will require some kind of computational thinking. Having a framework for how to think like a computer will be essential for every career in the future."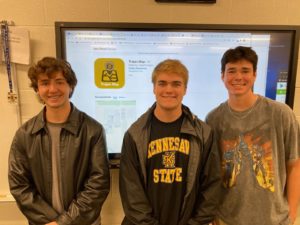 Carrollton High School students Zeke Ussery, Brantley Colquitt and Will Nixon created the Trojan Map app for iOS which provides a map to faculty and students to help find their way around the Carrollton City Schools campus. The project had 16 student contributors with roughly 40,000 lines of code.